If you're heading out on a camping trip, particularly if you're going to a remote location, it's important to make certain you have everything you need.
Once you've set up camp there won't be any convenience stores nearby to buy the food staples you forgot, there will be no garage shelves to double-check for your tent's missing awning support, and a faulty vehicle could result in a very long walk.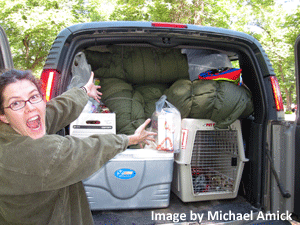 Vehicle & Camper Trailer Prep
First and foremost you need to make sure your vehicle and camper trailer are in good working order and not likely to leave you stranded.
Service – for long trips it's a good idea to get your vehicle serviced before you leave. This way everything should be in working order and a good mechanic will be able to warn you about parts likely to wear out soon, giving you the option of replacing them now or bringing a backup option in the event it breaks on your trip.
Tyres – going off-road certainly has an impact on tyres and replacements can be expensive in remote regions and near impossible to find. If there's any doubt about the state of your tyres either replace them before you leave or ensure you have enough spares. This goes for the camper trailer too.
Towing Gear – make sure your towing connections are functional, including the camper trailer's lights.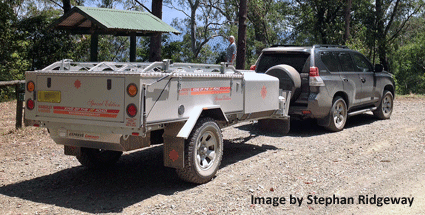 Camper Trailer Packing List
Once your car and camper trailer are ready for the trip you can start putting together all your food, clothing and camping gear.
Everyone's camping trips are different and obviously, you'll swap some things out based on the terrain and weather, but we've put together a list of things you should consider. Cross off the things you won't need and treat the rest as your checklist.
Food & cooking

Water
Gas cooker
Spare gas bottles
Pots/pans
Plates & cutlery
Cooking utensils
Cleaning equipment
Tea-towels
Corkscrew
Bread & spreads
Cereals
Snacks
Fruit
Coffee, tea & drinks
Sandwich fillings
Precooked food
Campfire foods

Camping gear

First Aid Kit
Sleeping bag
Bedroll/stretcher
Tarps
Hootchie cord/rope/
Tent pegs & mallet
Tent/awning
Camp chairs & table
Insect repellent
Firelighters/matches
GPS
Hiking pack
Water purifiers
Toilet paper
Torches/lighting
Garbage bags
Clothes & personal

Outdoor clothing
Wet weather gear
Socks & underwear
Warms clothes
Bathers
Thongs (for night toilet trips)
Shoes (with spare pairs
Comfortable sleepwear
Hat
Towels
Clean clothes for the trip home
Toiletries
Wet Wipes
Camera
Radio/iPod with speakers

Tools

Entrenching tool
Machete
Spare batteries
Car tool kit
Jumper leads
Fuel jerry (with fuel)
Engine oil
Tyre pressure gauge
Air compressor
Spare tyres
Jack & tyre wrench
Packing your Camper Trailer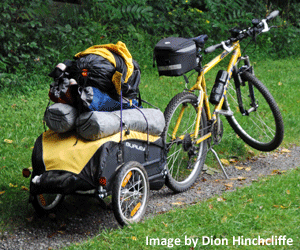 Finally, once you have all your equipment you can start packing your camper trailer. This will depend on your camper trailer and whether it's a smooth floor trailer, has draws or barriers, slide-out kitchen, or even roof racks.
Day Bag – start out by getting together a bag of things you'll need on the first day to keep easily accessible in the car. Things like a change of clothes, food and water for the trip, toilet paper and whatever else you might want before you set up camp.
Heavy items – pack your durable, heavy items at the bottom of the camper as close to the wheelbase as possible. This lowers the camper trailer's centre of gravity, preventing tipping on difficult terrain. If you don't have enough equipment to flat pack the heavy items in a place you will need to tie them down.
Light items – save your lightweight or more breakable items either for the top of the camper trailer or the roof rack of your car.
Other items – everything else can be fitted around the heavy gear in your trailer. Try to pack everything in so there aren't any gaps so as to prevent everything shifting during the drive. Save soft items like towels, bags of clothes, pillows and even sleeping bags for last, so they can be stuffed into any remaining gaps.
Finding it hard to fit everything in? Take a look at our previous article on camper trailer storage ideas.
Looking to upgrade your camper trailer before the Christmas holidays? There's still time.
Talk to us at Aussie Leisure Loans to organise camper trailer finance so you get the right gear, allowing you to focus on having a great time.
Contact us on 1300 889 669 to get started, or apply online today.