Time for a new vehicle to take to one of these exciting locations? See what your repayments could be below.
Are you itching for a fun holiday trip? In Queensland, there are plenty of great caravan parks for you to choose from. From perfect family adventure parks to scenic beachside getaways, you'll find incredible holiday parks here.
Start packing and check out the top 10 best caravan parks in Queensland:
1. BIG4 Toowoomba Garden City Holiday Park
34a Eiser Street, Harristown
Price range: $47 to $57 a night
One of the best Toowoomba caravan parks, the BIG4 Toowoomba Garden City Holiday Park is the perfect place to camp out and enjoy everything the area has to offer. Commune with nature and explore the award-winning gardens, gorgeous parklands, and the famous Japanese Garden. Or drive through the surrounding countryside to take in the sights.
There's plenty more to do at BIG4 Toowoomba Garden City Holiday Park like joining a tour of the area, shopping downtown, or catch a festival. Even without leaving the holiday park, you can enjoy the swimming pools, clubby house, picnic areas, and free gas barbecues and pizza ovens. The park is pet-friendly too! Whether you just want to sit back and relax or go out and about in Toowoomba, this caravan park has it all for you.
Image source: https://www.southernqueenslandcountry.com.au/products/accommodation/big4-toowoomba-garden-city-holiday-park
2. Torquay Palms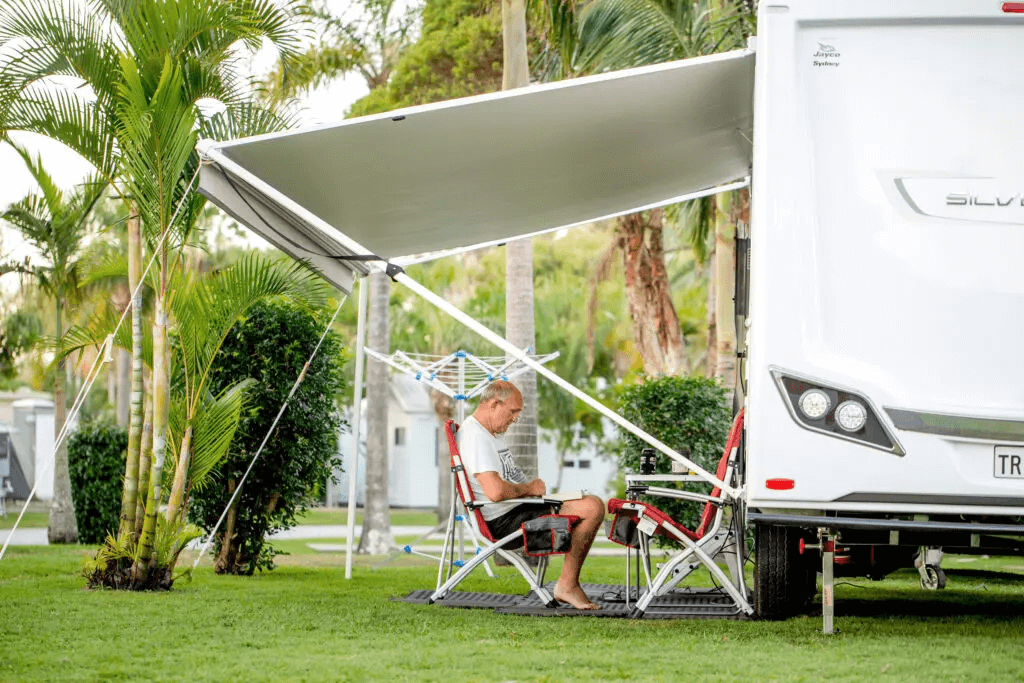 67 Truro Street, Torquay
Price range: $50 to $55
Torquay Palms is a boutique caravan park that's just a stone's throw away from the breathtaking Torquay Beach and Charlton Esplanade. This bustling city on the Fraser Coast is the ideal place for a seaside holiday anytime of the year.
Swim and surf the tides or fish while taking in the panoramic views. You can also go whale watching, visit the K'gari World Heritage site at Fraser Island, or check out Reefworld, the amazing all-natural aquarium.
The caravan park at Hervey Bay has great modern amenities, a premier camp kitchen, swimming pool, laundry facilities, and many more. It also has a range of powered sites including grass and concrete slabs. Plus, this park is one of the few pet-friendly caravan parks in the area.
Image source: https://tasmanholidayparks.com/au/caravan-parks/torquay-palms/
3. Undara Experience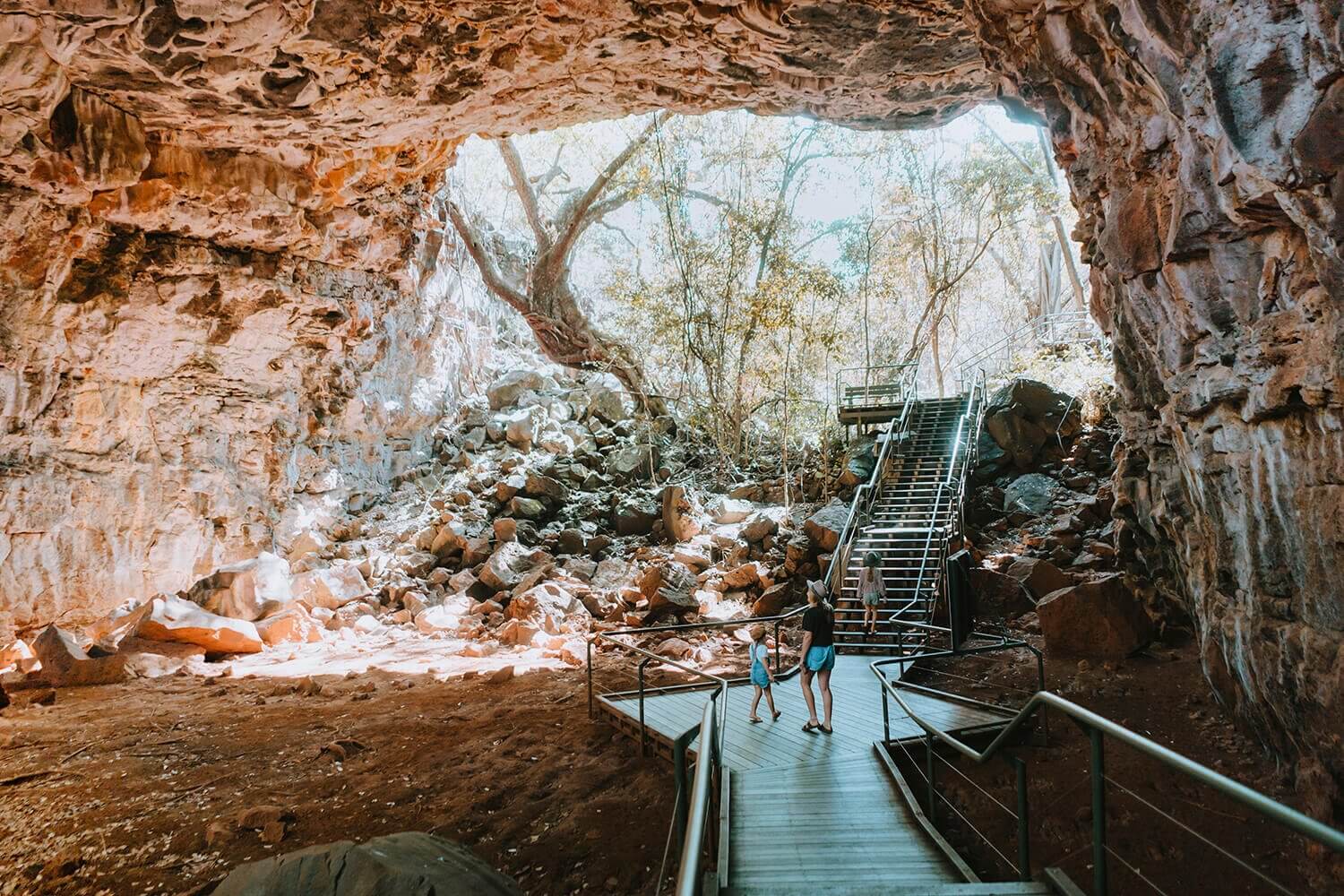 Undara Road, Mount Surprise
Price range: $17.50 to $22
If you want to see something new and exciting, the Undara Experience is definitely the place to be. Found in the Undara Volcanic National Park in the tropical Far North Queensland, the caravan park gives you access to one of the world's most incredible nature sites.
Go on a tour of the vast lava tube cave systems (the longest on the planet) and be in awe of this incredible geological phenomenon. Other outdoor activities include bushwalking, mountain biking, and trail hiking.
Park your caravan and get access to all sorts of amenities, facilities, and barbecues too! The caravan park has plenty of powered van sites, as well as unpowered van sites depending on your need. You can relax under the shady trees surrounded by natural bush and wildlife while having amenities within close reach.
Image source: https://www.tropicalnorthqueensland.org.au/things-to-do/geological-wonders/lava-tubes/
4. Kurrimine Beach Holiday Park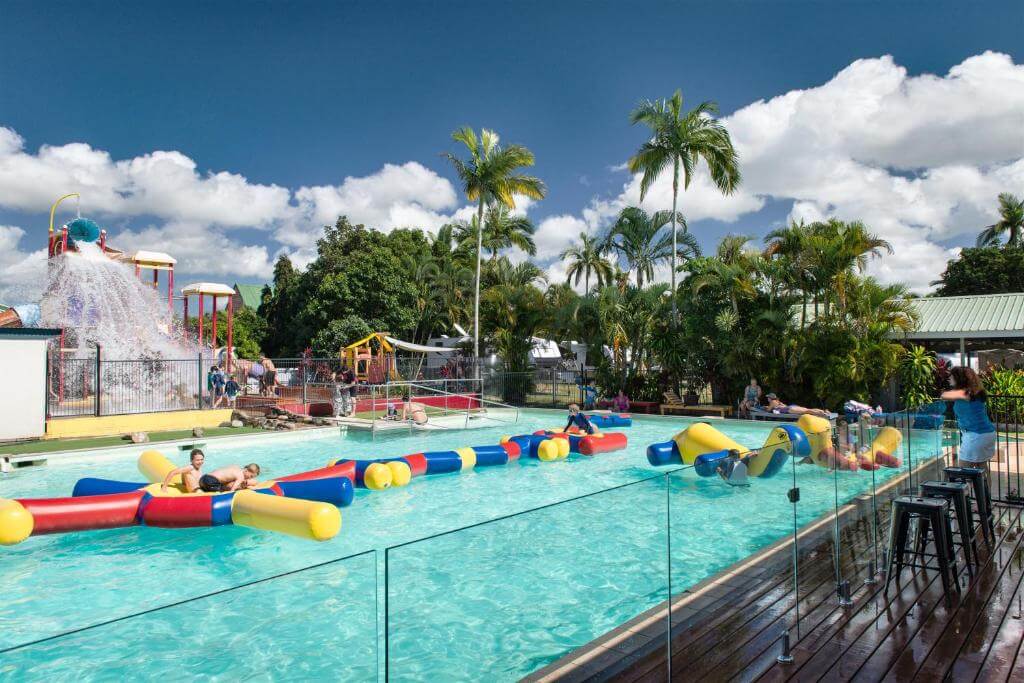 9 Coyle Street, Kurrimine Beach
Price range: $42 to $59
For those who want to get away from the hustle and bustle of everyday life, the Kurrimine Beach Holiday Park is going to be paradise. You'll only a block away from the water and gorgeous tropical beaches, surrounded by wide open spaces.
Bring your own boat and go fishing for some whiting and flathead straight off the shore. Staying at this holiday park means rest and relaxation like no other.
The Kurrimine Beach Holiday Park is one of the best caravan parks in Queensland because of its incredible service, cleanliness, and great value for money. The excellent facilities combined with the warm North Queensland hospitality makes this caravan park a wonderful place to stay.
Image source: Booking.com
5. BIG4 Ingenia Holiday Cairns Coconut Resort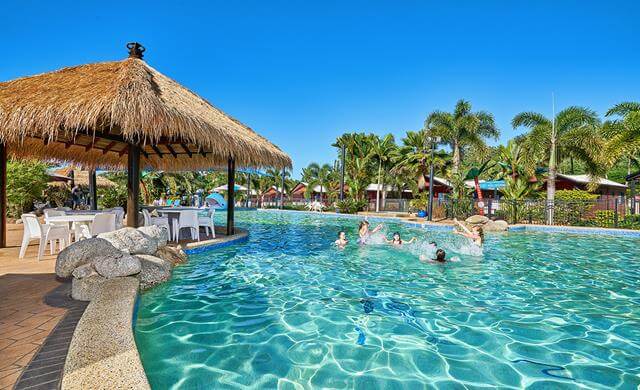 23/51 Anderson Road, Woree
Price range: $94 to $138
The BIG4 Ingenia Holiday Cairns Coconut Resort is the perfect place for family fun. It's where kids and kids at heart come to play. With a fun adventure playground, jumping pillows, mini-gold and pedal cars, and a splash park and waterslides, there is no shortage of fun things to do here.
If you want to go into town, the caravan park is only seven minutes away from the Cairns' town centre. Explore, shop, and dine around the CBD. While you're in the area, go out and visit must-see World Heritage icons like the Great Barrier Reef, Wet Tropics Rainforest and Atherton Tablelands. Whatever you decide to do, you and your family are guaranteed an unforgettable experience.
This holiday park is one of the best caravan parks in Tropical North Queensland. The caravan sites boast award-winning facilities earning a gold medal in the Queensland Tourism Awards back in 2019. No wonder it's one of the best caravan parks in the Cairns region.
Image source: https://www.big4.com.au/caravan-parks/qld/tropical-north/cairns-coconut-caravan-resort/deals
6. NRMA Capricorn Yeppoon Holiday Park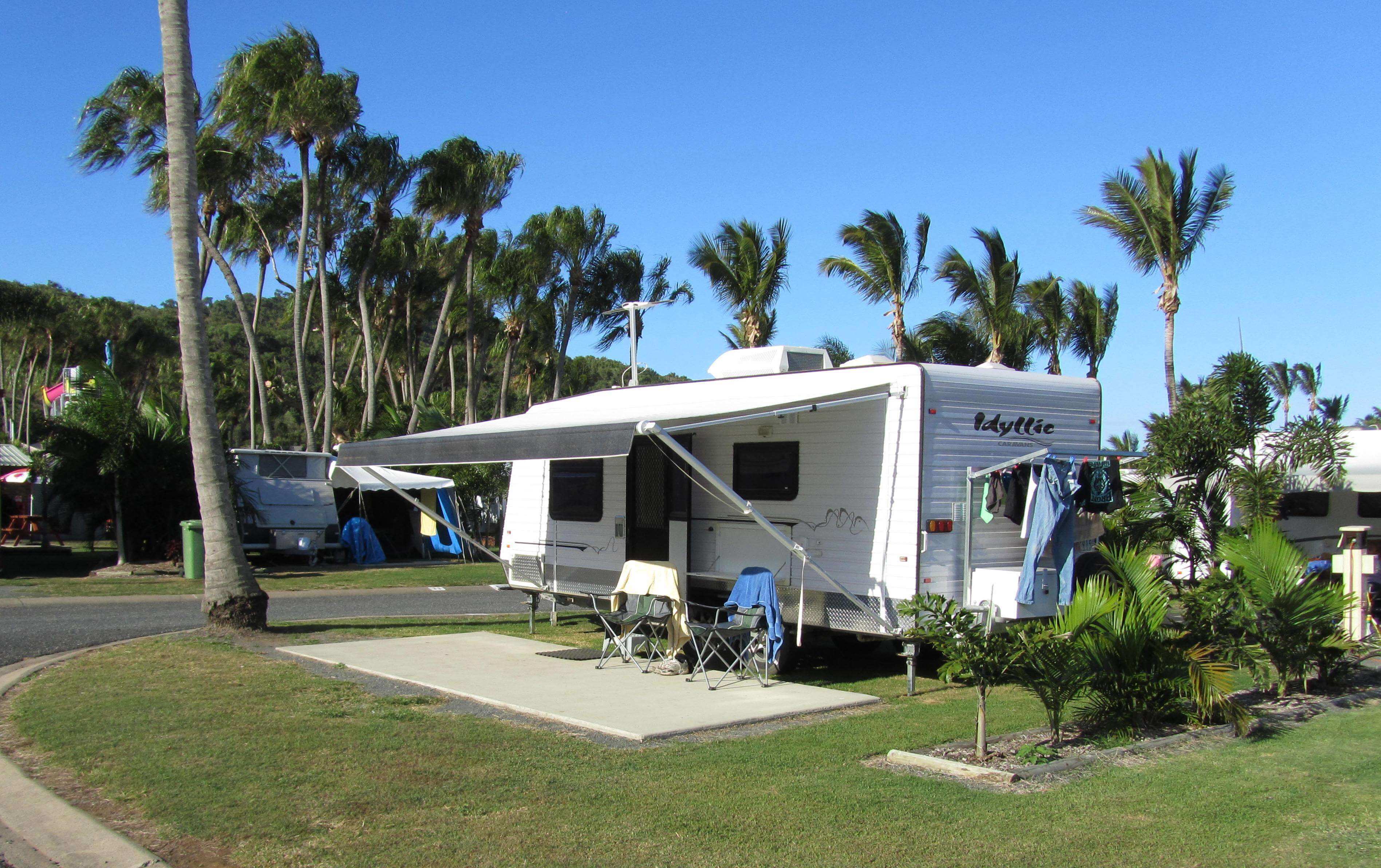 Wildin Way, Mulambin
Price range: $15 to $27
If you want a relaxed beachside holiday that's perfect for the whole family, NRMA Capricorn Yeppoon Holiday Park is the place to be. Sunbathe and luxuriate in the perfect tropical weather that's great all year-round. Grab the kids and splash around the beach only a few minutes' walk away. Go out into and see nature's most beautiful wonders. Visit the Southern Great Barrier Reef or explore the lush tropical rainforests nearby.
There's plenty of amenities in the caravan park itself. Hit the pool, enjoy live music and karaoke, catch a movie, or cook at the camp kitchen and meet with your fellow caravaners. You'll never run out of things to do in this incredible holiday park.
At NRMA Capricon Yeppoon Holiday Park, there are unpowered caravan sites as well as powered ones. It's also one of the more affordable caravan parks in Queensland.
Image source: https://www.big4.com.au/caravan-parks/qld/capricorn/nrma-capricorn-yeppoon-holiday-park
7. Nobby Beach Holiday Village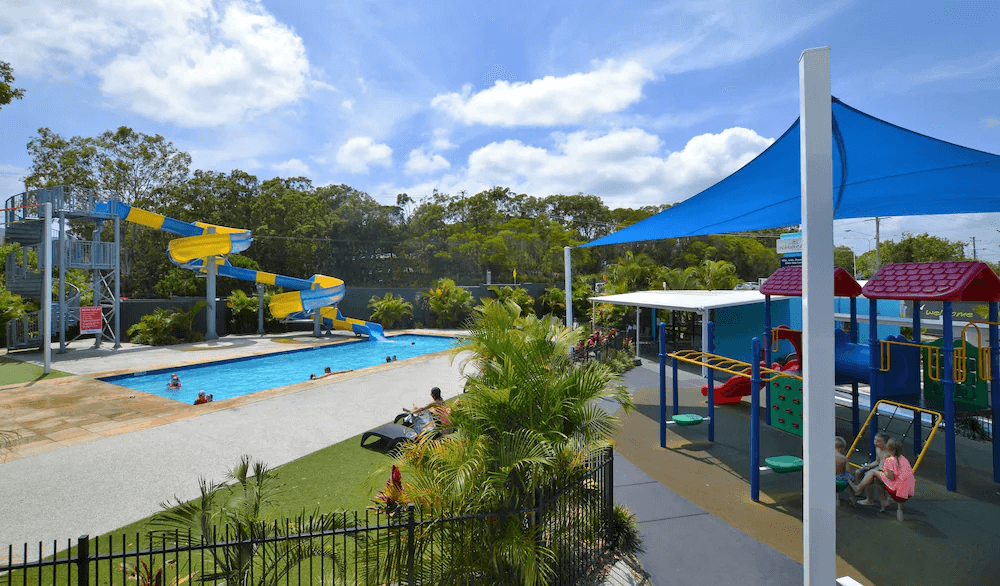 1 Hillcrest Parade, Miami
Price range: $48 to $63
Nobby Beach Holiday Village is a top-tier caravan park found at the heart of the Gold Coast. It's close to where all the action is from amusement parks to shopping centres to downtown Surfers paradise.
This caravan park has modern accommodations that will make your holiday stay that much better.It has a state-of-the-art camp kitchen, renovated block facilities, and a range of driven grass sites or slab sites perfect for your caravan.Bring the whole family and enjoy the water slide, playground, and park.
Image source: https://www.orbitz.com/Gold-Coast-Hotels-Nobby-Beach-Holiday-Village.h9627169.Hotel-Information
8. Julia Creek Caravan Park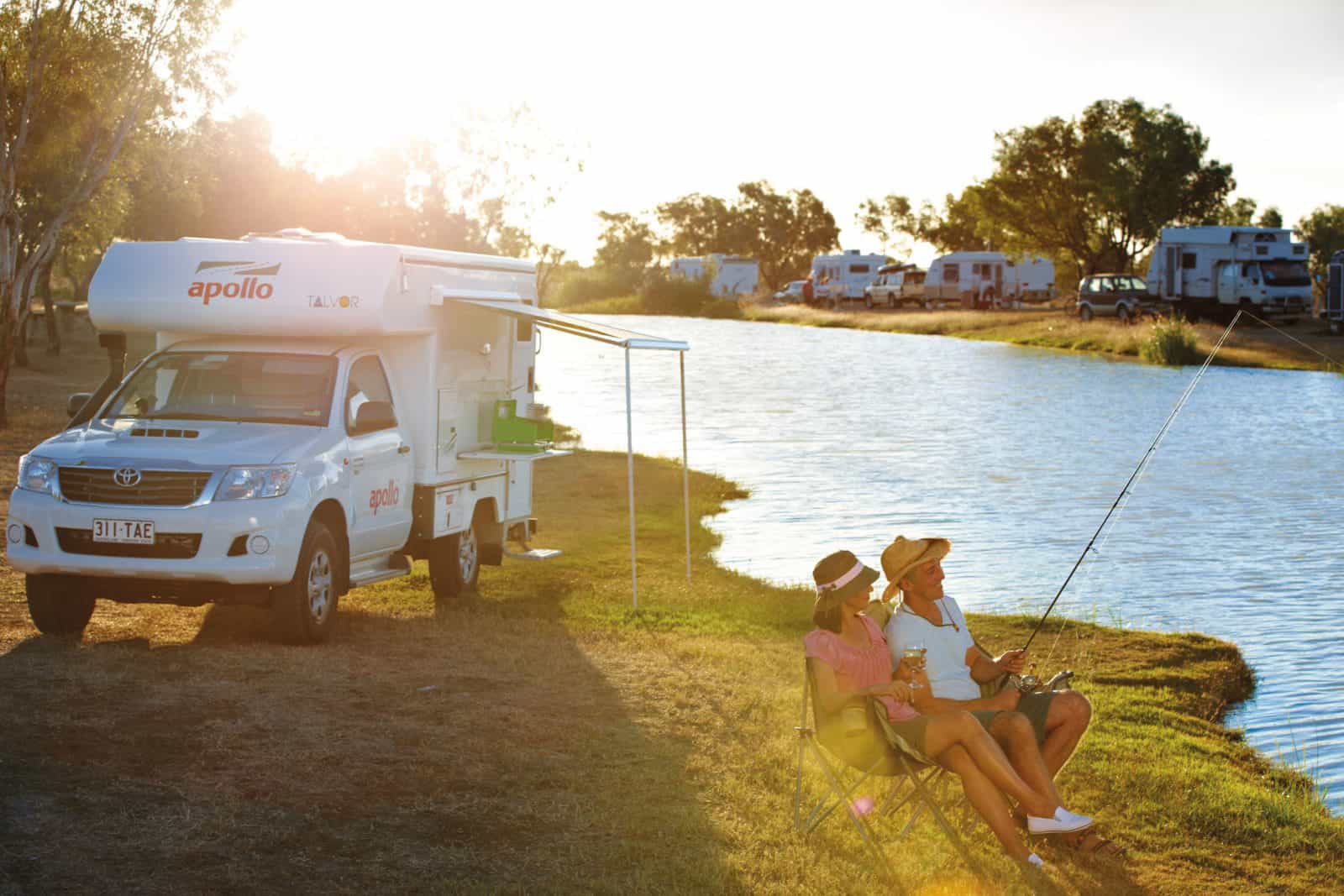 Julia Street, Old Normanton Road, Julia Creek
Price range: $27 to $35
Experience the beauty of the Australian outback at the Julia Creek Park. This award-winning caravan park has a wide array of accommodations for caravaners such as two amenities blocks, laundry facilities, a camp kitchen, free Wi-Fi, and best of all, cruiser bikes so you can ride through the outback and take in the splendid nature views. It has over 40 powered caravan sites that accommodates all sizes of rigs.
After a long day of cruising, you can relax in Julia Creek's famous Artesian Bath Experience. The perfect place to relax and soak your worries away in water sourced from the Great Artesian Basin with therapeutic minerals. Enjoy a glass of wine and graze platter to complete the experience.
What makes Julia Creek one of the best caravan parks in Queensland is the unparalleled sense of community it provides caravanners. Have a meal at the Julia Creek Caravan Park Bush Dinners held every Monday, hang out with fellow caravanners and holidaymakers, and cruise around the Outback.
Image source: https://www.australias.guide/qld/location/julia-creek/
9. NRMA Airlie Beach Holiday Park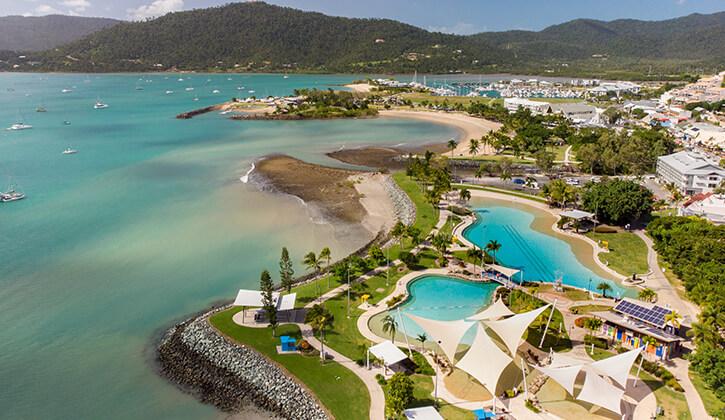 234 Shute Harbour Road, Cannonvale
Price range: $29 to $34
The NRMA Arlie Beach Holiday Park is another great beachside getaway. Experience what the wonderful Whitsundays has to offer. Snorkel or scuba dive in the iconic Great Barrier Reef or set sail to one of the gorgeous islands around the area.
What makes this a great caravan park is its array of amenities. Go swimming in the resort-style pool, light up the barbecue at the camp kitchen, and enjoy everything the holiday park has to offer. The caravan park is in an ideal location giving you access to Airlie Beach Town Centre and Cannonvale Beach.
Image source: https://www.nrmaparksandresorts.com.au/airlie-beach/park-info/things-to-do/
10. Paronella Park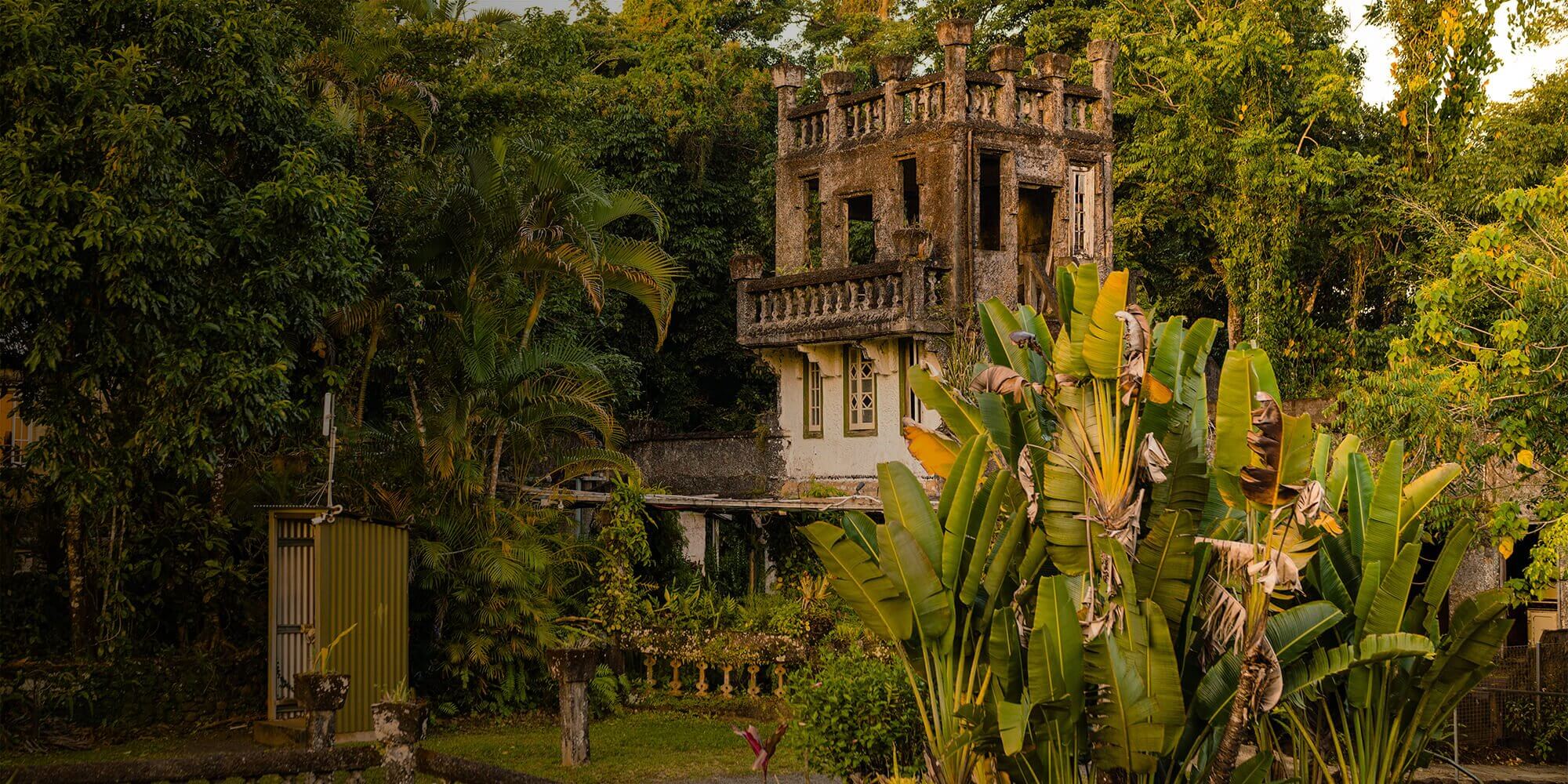 1671 Innisfail Japoon Road, Mena Creek
Price range: $52 and up
Be transported to a fairy tale-like landscape when you visit Paronella Park. This five-hectare park comes complete with a Spanish-style castle, waterfalls,and gorgeous flora and fauna. Stroll through the picturesque dreamland and take in the beautiful restored architecture.
This is a perfect place for those who just want to take a breather and slow things down for a holiday. Go on the day tour to have a guided tour of the park, visit the tropical gardens and see the diverse wildlife. Or check out the park after dark with The Evening Experience and extend your stay.
When you book your stay at Paronella park you get access to the Paronella Caravan and Camping grounds which is included in the entry fee when you purchase a ticket. If you'd like to stay longer, you only have to pay an additional $10 a night (your first night is free).
Image source: https://www.tropicalnorthqueensland.org.au/articles/12-things-you-didnt-know-about-paronella-park/
Update your caravan or camper van before your next holiday!
To get the best holiday experience, you need the best caravan. Aussie Leisure Loans can help get you the right financing with the most competitive interest rates to suit your needs. Call us now or apply online and get conditionally approved for a caravan loan by talking to one of our finance experts.
FAQs
What is a caravan park?
A caravan park is a place where people with caravans, camper vans, or other recreational vehicles can stay overnight or longer. It'spopularly used by people going on holiday. There are different types of caravan parks all over Australia with different amenities and facilities.
Can I bring my pets to a caravan park?
Some caravan parks allow pets while others do not. It depends on which caravan park you'll be staying in. Before bringing your pets along on your holiday read up on the caravan park's rules and guidelines.
What types of sites are available at caravan parks?
A caravan park can have an array of sites such as powered, unpowered, grass, and slab. Each site can also differ in size to accommodate different caravans. The type of sites available will depend on the caravan park. It's best to check with the caravan park beforehand.
How do I book a site at a caravan park?
You can check the caravan park's website and book online or call them ahead of time. Some caravan parks have a fully online booking while others let you book through third-party booking websites like Booking.com and Expedia.com
What facilities do caravan parks typically offer?
The most basic facilities caravan parks usually offer are communal toilets, showering facilities, and communal cooking space like barbecues.
How much does it cost to stay at a caravan park?
You can stay at a caravan park for as little as $15 a night depending on the location and date of your visit. Some caravan parks may be more expensive costing upwards of $50 a night.
Are caravan parks safe and secure?
Yes, caravan parks are typically safe and secure. If you're unsure about a caravan park, it always pays to do your own research and look up reviews online.