Time for a new vehicle to take to one of these exciting locations? See what your repayments could be below.
Looking for the perfect holiday destination? Whether you're looking for adventure or peace and quiet, Victoria has something for everyone.
If you're unsure where to hitch your caravan, we've got you covered. Here's our top 10 list of the best caravan parks in Victoria:
1. Anglesea Family Caravan Park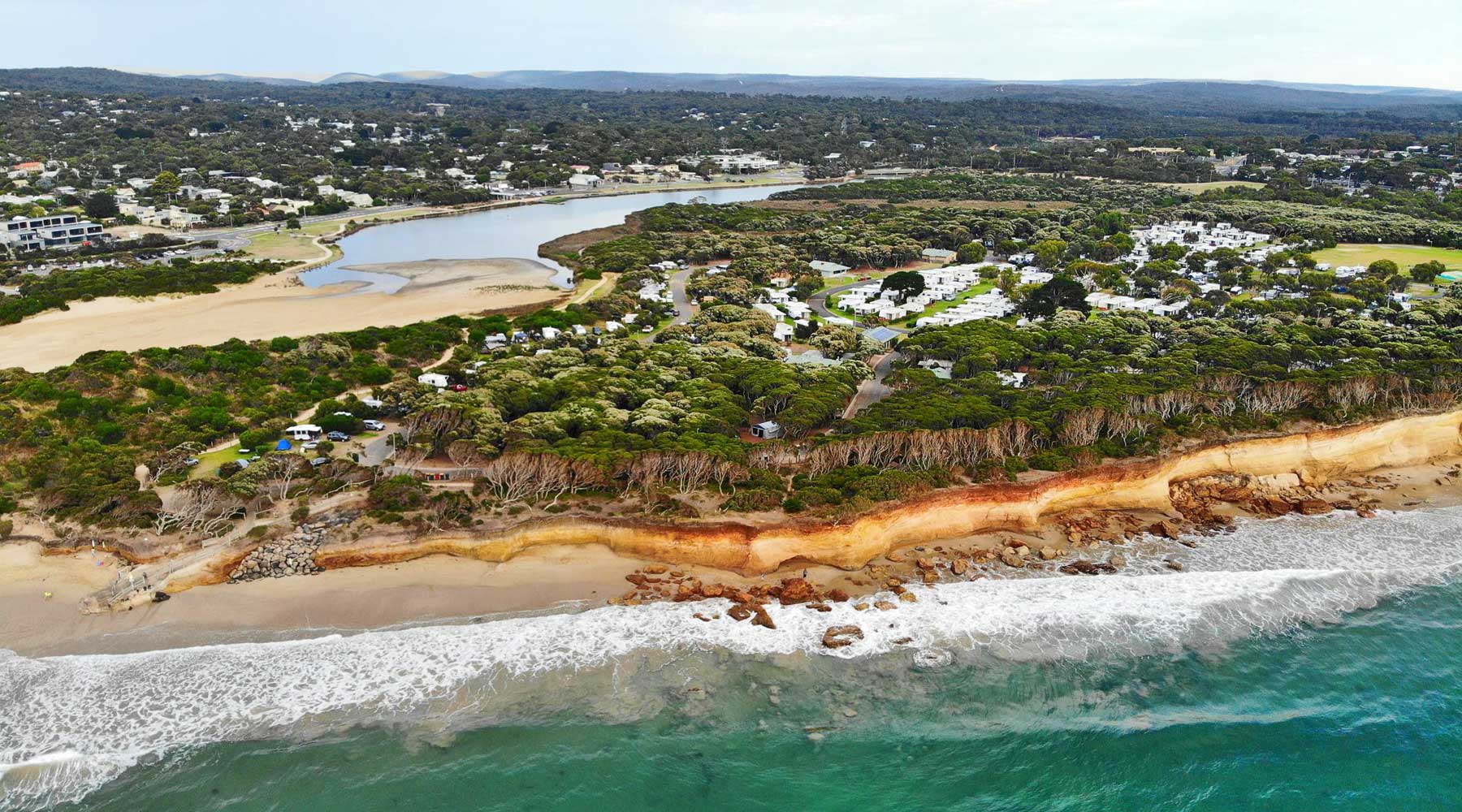 35 Cameron Road, Anglesea VIC 3230
Price range: $58 to $66
Anglesea Family Caravan Park is the ideal place for a family outing with something for kids and kids at heart. Located near the Great Ocean Road and close to Anglesea River and Surf Beach, this park is the perfect spot for those who want to experience the great outdoors and take in picturesque nature views.
The park offers plenty of amenities like a giant jumping pillow, playground, games room, and TV room.Otherfeatures include a beach volleyball court, basketball rings, mini-golf, heated swimming pool, and a large recreational area. There's a newly updated camp kitchen with plenty of seating and a barbecue area, as well.
This caravan site has 250 campsites—all of them with water and electricity. Most of these campsites are close to the river and beaches. There are some dog-friendly caravan sites too, if you want to bring your pets along.
Image source: https://www.flickr.com/photos/casey24/8459595801/in/photolist-aFmu2J-aFmtXb-btCYpb-dTxD72-b6uvS2-7RdLy1-dTxKRV-dTDm9L-dTxMEe-dTDqKf-974DQL
2. Gentle Annie Caravan and Camping Reserve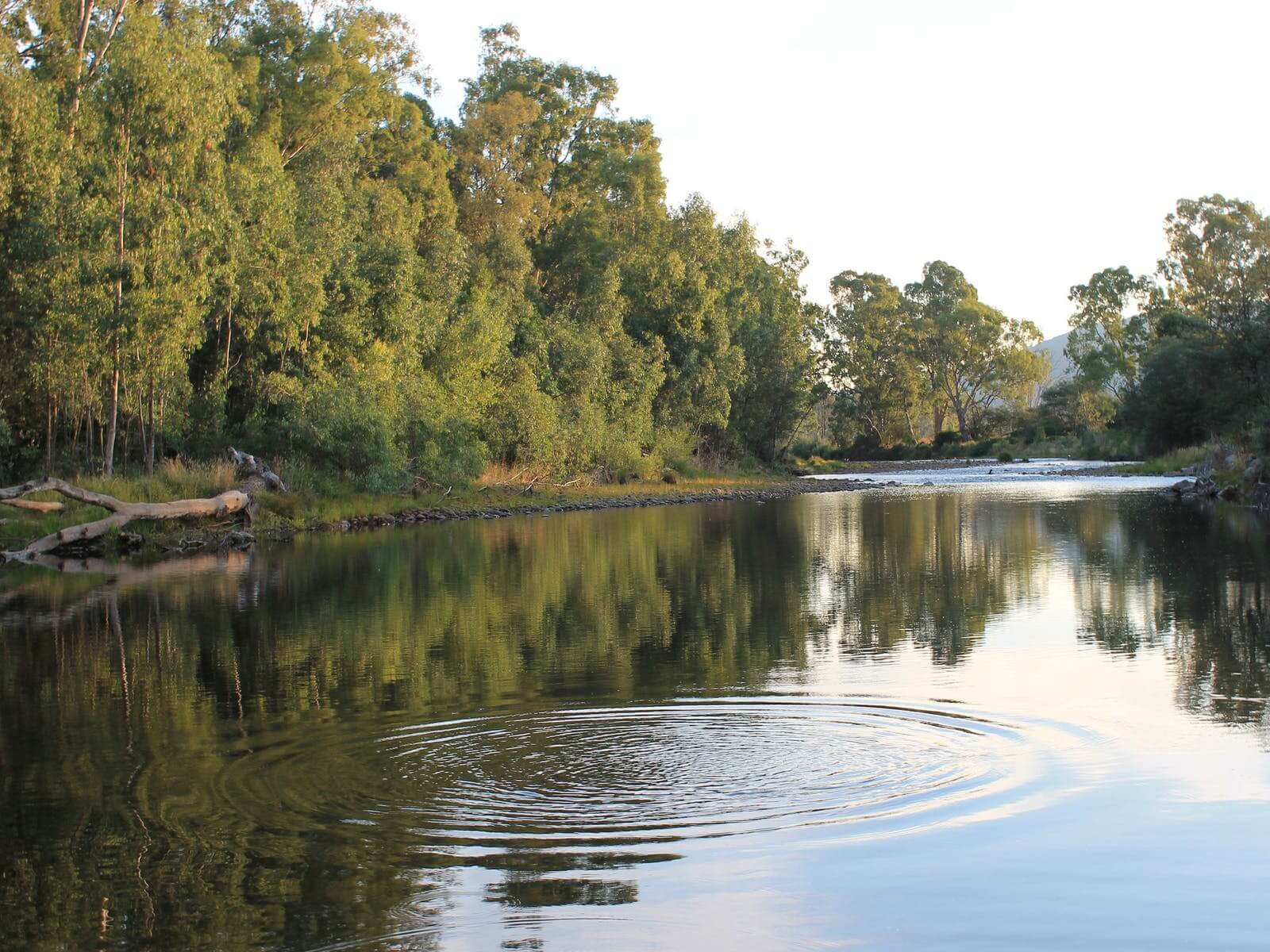 98 Gentle Annie Lane, Whitfield VIC 3733
Price range: $30 to $45
If you're looking to slow down and relax, Gentle Annie Caravan and Camping Reserve is the place to be. This rustic, down-to-earth holiday getaway offers clean and functional facilities. Enjoy some rest and relaxation with no worries. Escape the busy city life and sit back and wind down at this incredible Victoria caravan park.
Be surrounded by mature oak trees as you camp out in one of the powered and unpowered sites. Spend the day following the recreational trails of King Valley, stargaze during the tranquil evenings, and immerse yourself in beautiful nature. Pets are allowed so you can take them out to this quiet escape.
The park is a gorgeous two-hectare area that spans both sides of the King River. This park is also near the Alpine National Park, State Forest, and Lake William Hovell. You're only three minutes away from the Whitfield township where there are plenty of restaurants, cafes, and shops.
Image source: https://www.visitvictoria.com/regions/high-country/places-to-stay/caravan-and-camping/gentle-annie-caravan-and-camping-reserve
3. Great Ocean Road Tourist Park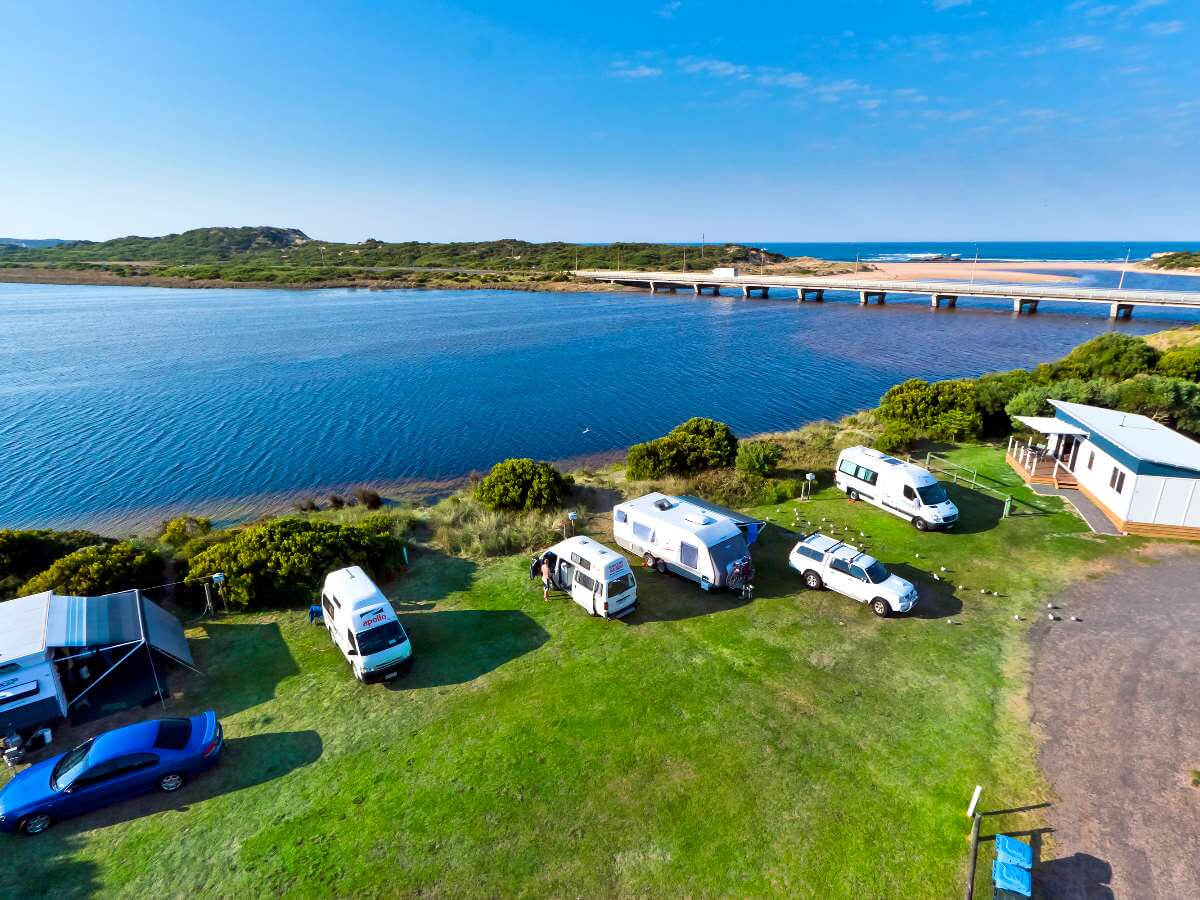 Great Ocean Road, Peterborough VIC 3270
Price range: $32 to $70 (depending on the season)
The Great Ocean Road Tourist Park is a staple in any list of the best caravan parks in Victoria and for good reason. Not only is it a great rest stop for epic road trips, but the place itselfoffers plenty of fun activities and tourist sites.
Ideally located within minutes of many awesome Great Ocean Road attractions, you'll have plenty to see and do. Walk around the sceneTwelve Apostles and marvel at the breathtaking views.Go on a gourmet food trail at Twelve Apostles Food Artisans. Or fly over the Bay of Islands and Shipwreck Coast on a scenic helicopter tour.
One of the best things about the Great Ocean Road Tourist Park is its proximity to the river. Get a good fishing spot riverside or use the boat ramp. Pets are allowed in both the powered and unpowered sites but, not during peak periods. The spaces in both areas are big enough to accommodate most sizes of RVs, caravans, and trailers.
Image source: https://gdayparks.com.au/parks/victoria/great-ocean-road/great-ocean-road-tourist-park
4. Best Friend Holiday Retreat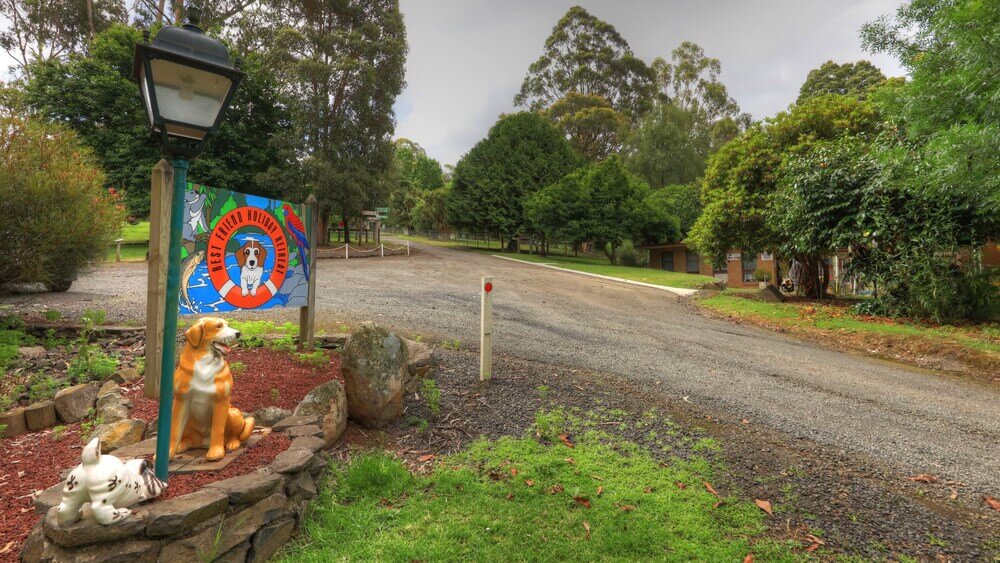 1720 Tarra Valley Road, Tarra Valley VIC 3971
Price range: $39 to $60
For some, no holiday is complete without man's best friend—and who could blame them? At Best Friend Holiday Retreat, dog owners can bring their pets and explore the over 10 acres of parkland and gardens. The area also includes a waterfall and natural rock pool that you and your furry friend can hike.
Enjoy a myriad of activities such as daily bird feedings featuring resident koalas, picking fruit, nuts and berries, and visit local attractions (some are less than 30 minutes to an hour away). Stay at the caravan park and go to the six off-leash areas or visit the dog hydro bath hut and dog playgrounds. There are also luxury day-use kernels.
This boutique caravan park in Victoria is an award-winning holiday retreat perfect for you and pets. No more worrying about leaving your pet at home. Bring your dog with you as you enjoy a much-needed holiday.
Image source: https://www.lastminute.com.au/Tarra-Valley-Hotels-Best-Friend-Holiday-Retreat.h44389219.Hotel-Information
5. NRMA Bright Holiday Park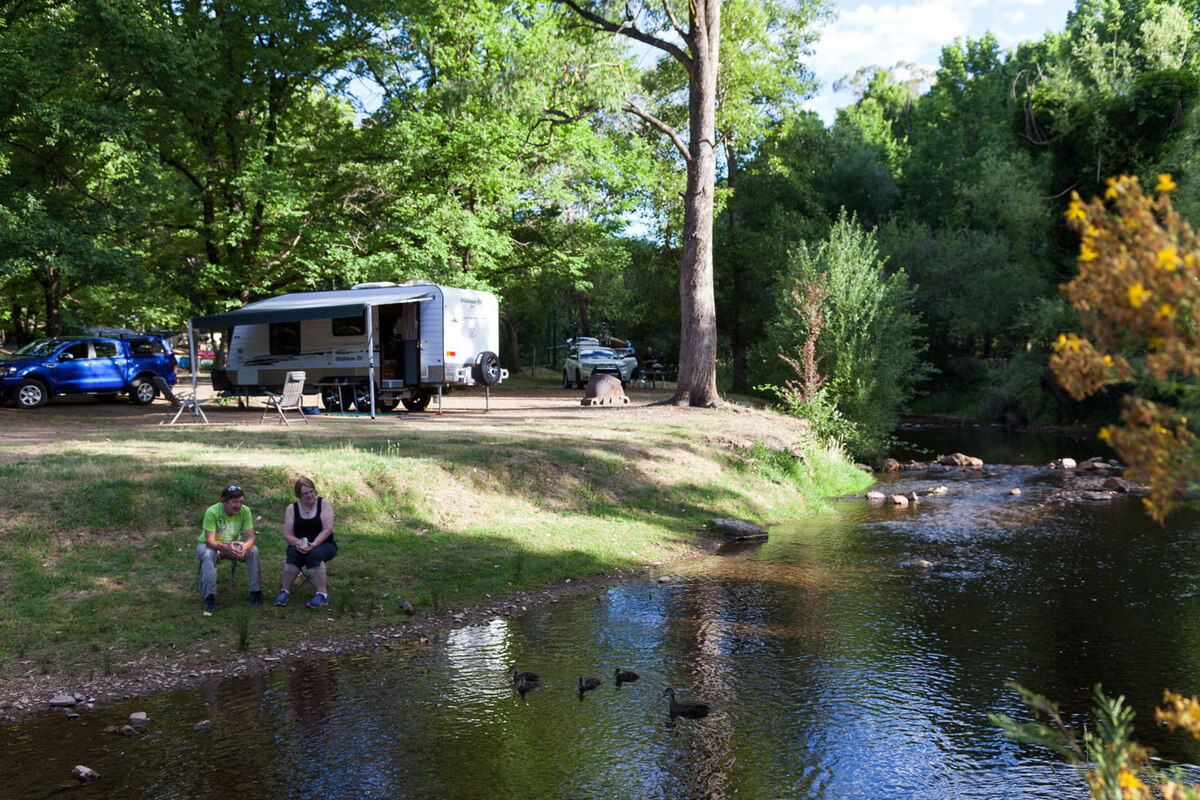 2-4 Cherry Lane, Bright VIC 3741
Price range: $51 to $74
The NRMA Bright Holiday Park is one of the best holiday parks in Victoria because of its great location, amazing amenities, and excellent facilities. Found in Morses Creek, you'll feel the fresh mountain air and sleep peacefully as you listen to the meditative sounds of the flowing water nearby. It's great for nature hikes and mountain biking too.
Explore the magnificent High Country and the town of Bright. Have a fun family day at Bright Splash Park or have an educational outing to the Bright Museum. If you time your visit just right, you can witness the Autumn Festival gold panning tours and their mountain-crafted beers.
At this Victoria caravan park, there are three kinds of sites: ensuite, powered, and unpowered. All sites have water supply. Bathrooms and laundry areas can be found in the park.
Image source: https://www.big4.com.au/caravan-parks/vic/victorias-high-country/nrma-bright-holiday-park
6. Torquay Foreshore Caravan Park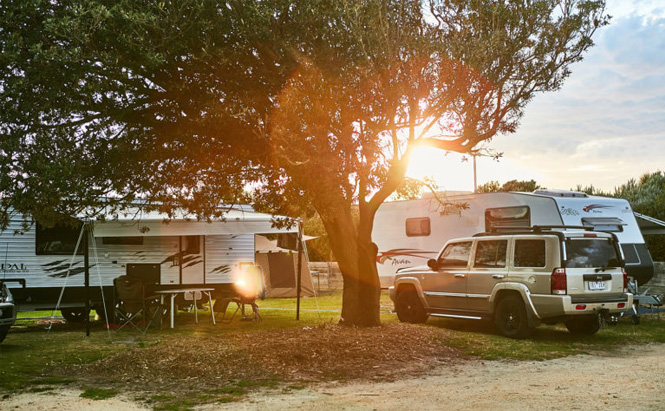 35 Bell Street, Torquay VIC 3228
Price range: $66 to $71
The Torquay Foreshore Caravan Park is the best holiday spot for those who love the sun, sand, and surfing. Known as a top surfing destination, many first-timers go to the Torquay Surf Academy to get beginner lessons from the best surfers in town.
If surfing isn't your speed, you can paddle in the shallows or take a dip in one of the many world-class beaches around the area. There are also plenty of cafes, ice cream shops, and restaurants along the Esplanade for the foodies out there. Biking and hiking trails in the area are gaining recognition, as well as the wineries in the region.
All 300 campsites in Torquay Foreshore Caravan Park can accommodate mobile homes, tents, and caravans. Power and water supplies are provided in all those areas. Guests are welcome to use cooking facilities and bathrooms in the park.
Image source: https://torquaycaravanpark.com.au/sites/bush-camping-sites/
7. Echo Bend Caravan Park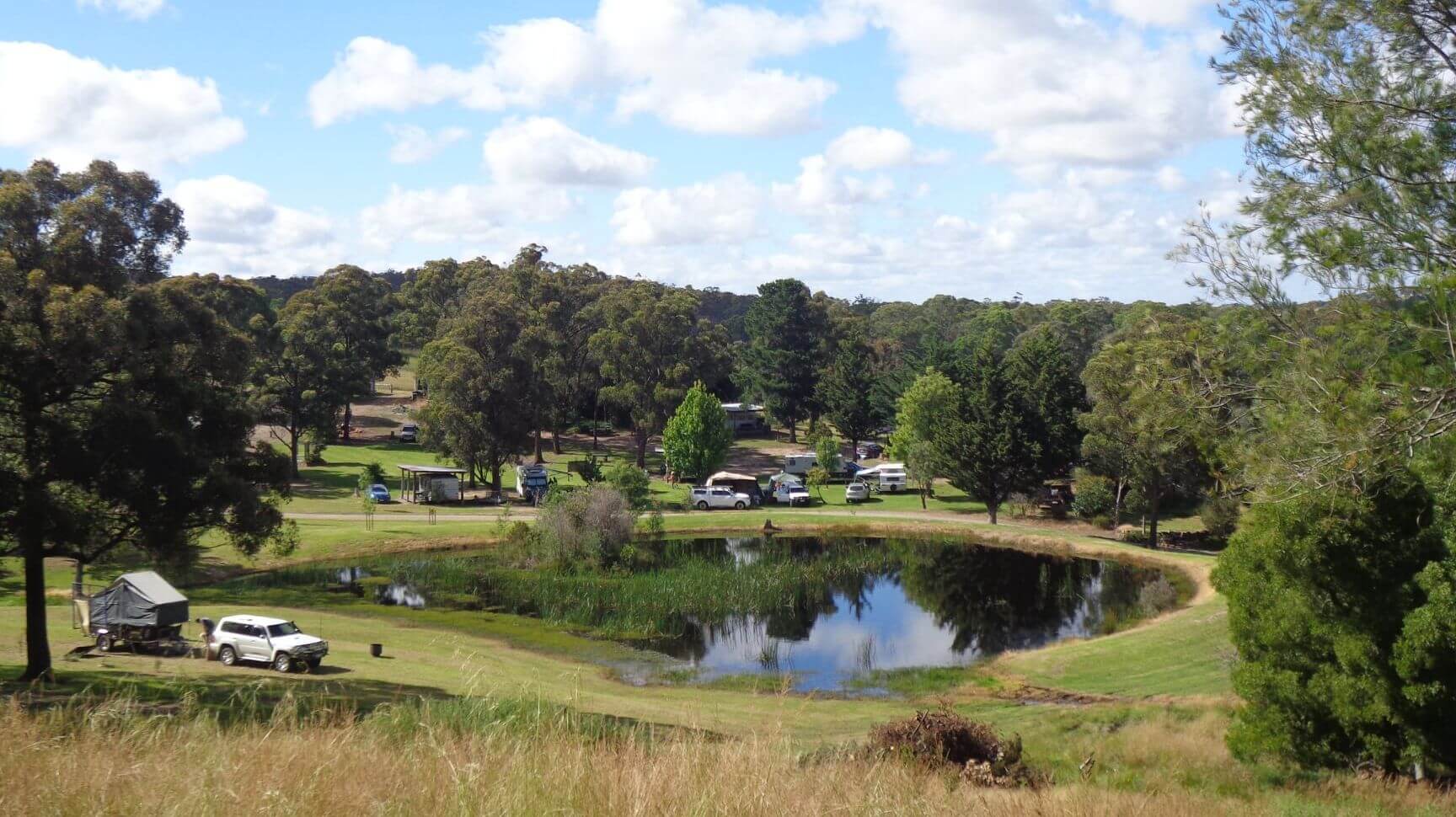 345 Dunbars Road, Iguana Creek VIC 3875
Price range: $36 to $48
The Echo Bend Caravan Park is unlike any of the other caravan parks on this list. It doesn't boast an array of amenities or any cool new features. What makes this among the best caravan parks in Victoria is the unparalleled calm and solitude it offers.
Found in East Gippsland close to the den of Nargun, a Gunaikurnai first nations site, this caravan park is the best place to get some alone time. If you're tired of the hustle and bustle of daily life, book a night or two and spend time outdoors. You'll find beautiful open green spaces where you can take peaceful walks and be one with nature.
The caravan park has necessities like a toilet block and shelter sheds. There are 25 powered sites and 60 unpowered camping sites. The unpowered sites are spacious enough that you won't be close to any other groups.
Image source: https://themiddleofeverywhere.com.au/en/profiles/echo-bend-camping-park
8. Warburton Holiday Park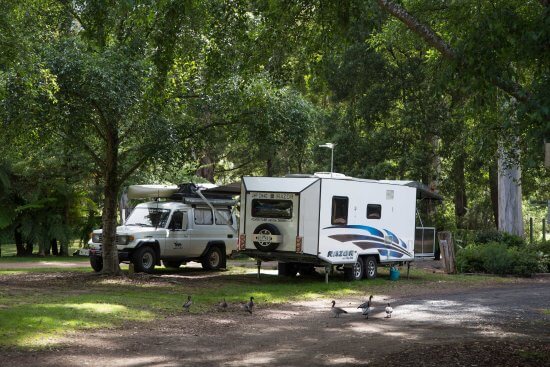 30 Woods Point Rd, Warburton VIC 3799
Price range: $38 to $58 (depending on the season)
Warburton Holiday Park is situated near the Upper Yarra River giving guests access to great fishing and hiking opportunities in the Yarra Valley. It has huge acres ofgreen lush lawns surrounded by the Australian bush.This amazing caravan park outside of Melbourne offers city dwellers a place to be closer to the great outdoors.
Explore the variety of unique ecosystems while going on a scenic bushwalking eco-tour. Go cyclic and see the scenic drives. Or try your hand at fly-fishing. Visit the historic Warburton township and check out the cafes, restaurants, boutique shops, artisan markets, and more.
This Victoria caravan park has powered and unpowered sites with some dog-friendly sites too. You can book a powered site that's riverside, so you get waterfront views. There are peak, shoulder, and off-peak rates as well depending on the time of your stay.
Image source: https://www.tripadvisor.com.au/Hotel_Review-g552268-d10046142-Reviews-Warburton_Holiday_Park-Warburton_Yarra_Valley_Victoria.html
9. BIG4 Taggerty Holiday Park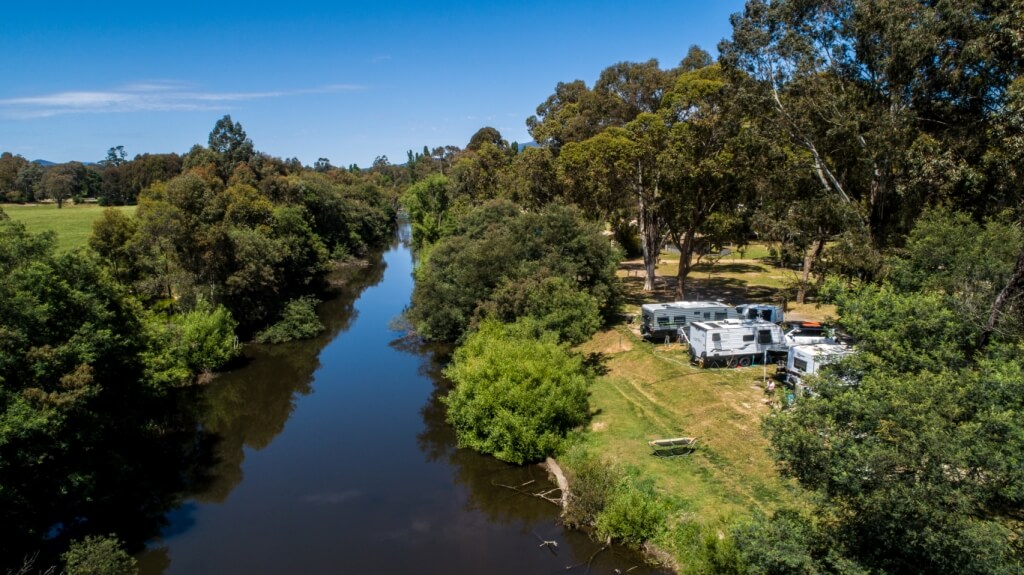 3380 Maroondah Highway, Taggerty VIC 3714
Price range: $35 to $200
If you're looking for a caravan park near Melbourne, the BIG4 Taggerty Holiday Park is one of the best. It's situated on the banks of the Acheron River surrounded by natural bush with Cathedral Mountain in the backdrop. When you stay in this caravan park, you'll be a stone's throw away from popular local sites like Stevenson Falls, Lake Eildon, and Lake Mountain.
The outdoor water activities here are endless, from fishing to tobogganing to swimming. You can also visit the local wineries and enjoy a wine tasting or two. The BIG4 Taggerty Holiday Park also has incredible amenities.It has features such as a jumping pillow, cricket pitch, giant chess, mini golf, play equipment, and more!You're sure to have fun even without leaving the park.
The park has an array of site options ranging in prices too. Whether you're looking for a simple unpowered site near green open space or a powered site with a riverside view, you can find it here.
Image source: https://www.big4.com.au/caravan-parks/vic/victorias-high-country/taggerty-holiday-park
10. Tidal River Campground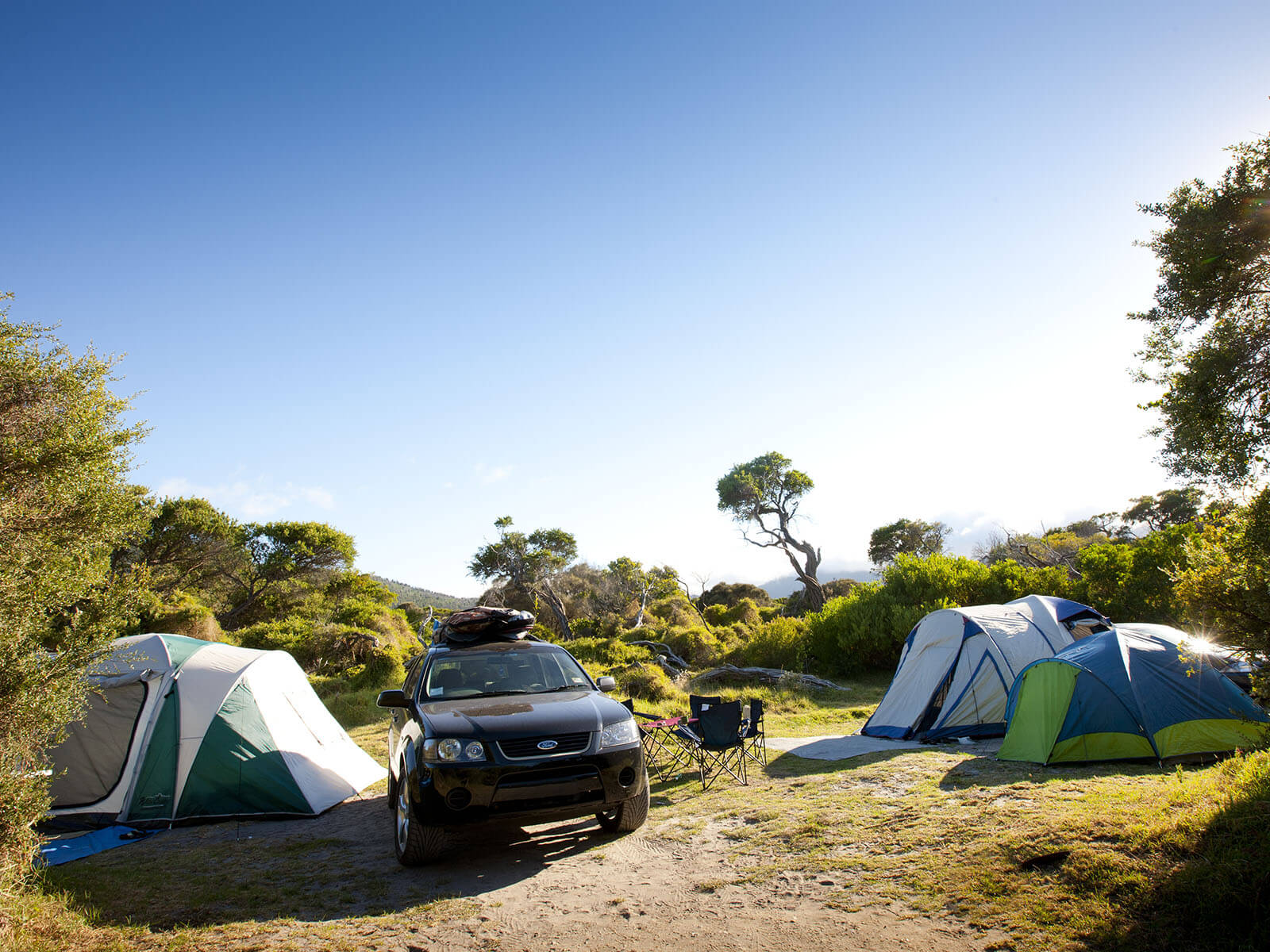 Main Road, Tidal River VIC 3960
Price range: $56.10 to $62.30 (depending on the season)
One of the most popular caravan parks in Victoria, the Tidal River Campground offers hundreds of powered and unpowered caravan sites. It's easy to find a secluded spot nestled under the tea trees or a riverside site near Norman Beach.
Everything you need for a wonderful nature getaway is right here. Be in awe of the granite mountains and dense native forests. Go on one of the many hiking trails, swim in the magnificent beaches, or visit the historic Wilsons Promontory Lighthouse.
Operated by Parks Victoria, the Tidal River Campground has many amenities including a general store with basic supermarket items. No need to worry if you've forgotten to pack some essentials.
Need a new caravan for your next holiday?
If you are in the market for a new caravan or want to upgrade your current leisure vehicle, we can help! At Aussie Leisure Loans, we can help you find low-rate leisure loans which are tailored specifically to fit your financial situation.
For more information, call us now on 1300 889 669 or apply online now for pre-approval.
FAQs
What types of accommodation are available at caravan parks in Victoria?
Caravan parks in Victoria offer a range of accommodations depending on your needs. You'll find a variety of powered and unpowered sites in Victoria caravan parks. Make sure to do your research and look at a caravan park's facilities and accommodations before booking your stay.
Are caravan parks in Victoria pet-friendly?
There are caravan parks in Victoria that have pet-friendly sites so you can bring your dogs along with you on vacation. Always confirm with the caravan park beforehand to ensure your pets are welcome.
What facilities can I expect to find at a caravan park in Victoria?
The facilities available at Victoria caravan parks differ depending on the type of caravan park. Some provide basic facilities such as showers, bathroom blocks, and a communal kitchen. Other caravan parks provide laundry services, satellite television, and Wi-Fi.
There are also caravan parks with an array of amenities and attractions found at the park itself like playgrounds, water parks, tennis courts, and the like.
Can I book a site at a caravan park in Victoria online?
Yes! There are plenty of caravan parks in Victoria that let you book your caravan site online. You can also check the availability of sites on different dates so you can plan your holiday accordingly.
How much does it cost to stay at a caravan park in Victoria?
Costs for a night's stay in a caravan park in Victoria range from $25 to $70. You may find caravan parks that are cheaper or more extensive. The priceper night depends on the caravan park and how many people will be staying on the site.
What is the check-in and check-out time at caravan parks in Victoria?
Check-in and check-out times at caravan parks in Victoria differ depending on the caravan park. Typically, check-in is around noon to 2 PM and check-out is at 10 AM the day of departure. Caravan parks usually charge a late check-out fee for those who want to stay longer.
Get in touch with the Victoria caravan park you'll be staying at to know the exact check-in and check-out times.
Are caravan parks in Victoria safe and secure?
Yes! Caravan parks in Victoria are safe and secure. They offer holidaymakers a great place to relax and enjoy their vacation without worries. Contact the caravan park you'll be staying at to know more about their security and safety policies.