For anyone who has gone camping with a camper trailer you'd know you can fit a surprising amount of equipment and supplies if you pack everything right. You'd also know from the pack down at the end of the trip that if you're tired and not packing smartly you can quickly run out of room.
Luckily there are plenty of handy tips, storage tricks, gadgets and compartments you can make use of to make packing and fitting your camper trailer a much easier ordeal.
Follow some of these storage ideas to make your holiday camping trips less of a hassle.
Camping Storage Tips
Kitchen draw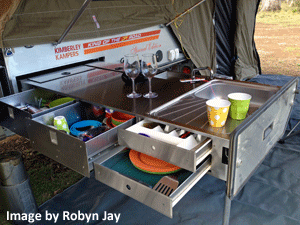 This is such a useful storage addition for camper trailers that these days they're usually included. Roll out kitchen draws can include all your gas burners, sink, cooking utensil, fridge/cooler and food storage.
It's handy in that you don't even have to unpack your camper to stop for a cooked meal while you're on the road. Unless you're planning on really roughing it this should probably be a consideration for all camper trailers.
Kitchen hanger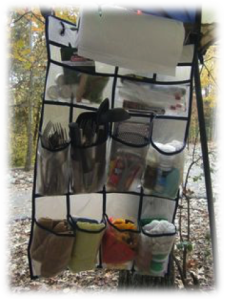 Shoe hangers for your wardrobe can be quite useful for salt, pepper, sauces and kitchen utensils. Hang it from a tree, your awning or whatever is near your kitchen draw while you're cooking for easy access, then roll it up with everything inside and stow for transit. Just make sure you've closed all the sauce bottle lids first.
Shoe hangers can also be useful for socks, underwear, watches, keys and other easily lost items.
Camper trailer barrier
If your camper trailer is one big open space on the inside you'll find everything moves around, often making it harder to find gaps to put your equipment. Sectioning off some parts of your storage area allows you to secure items that are either easily damaged or move around during transit. It's perfect for gas bottles, tubs with food supplies and other quick access items.
Cargo draws
Installing slider draws for the floor of your camper is a popular modification, but to make this more convenient you can size the draws to hold plastic storage tubs. You'll be able to access the tubs by pulling the draws out and remove the tubs to transport the contents, all while keeping your campsite tidy. This is good for things like clothing, tents and other outdoor equipment, as well as long term food items you won't need until after you've made camp.
Removable shelves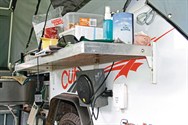 These days there are plenty of clip on shelves and benches you can get for the side of your camper trailer, or even for the side of roll out draws like your kitchen.
They don't take up much space when folded down but it makes a world of difference once you've made camp.
Under trailer storage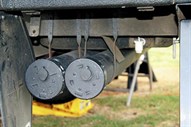 You'll find there are a few different storage containers you can get fitted underneath your trailer. One of the best uses you can make of this space is for long thin items such as fishing rods, awning poles, and antenna. These longer items can easily get damaged stored inside the trailer or strapped to the outside, but in a solid tube they can be protected underneath the trailer without limiting your clearance too much.
There are plenty of other storage ideas out there amongst some of the more innovative campers, so make sure you keep your eyes open next time you're staying at a busy camp ground. You never know what bright ideas you might pick up.
If you're in the market to buy a camper trailer talk to the team at Aussie Leisure Loans. We can find the right camper trailer finance to suit you.
Contact us or apply online to get things moving today.