If your caravan is feeling a little tired there are some pretty easy steps to take to give it a bit more life.
Keep things white and bright
You can lift and brighten your caravan by opting to go white for your walls and cupboard doors. It's a great way to feel like you've got more space rather than a strong colour which can feel enclosing. Keeping all of your soft furnishings neutral will also achieve clean, modern lines for your caravan and create a more peaceful feel – which is exactly what you want when you're on holidays!
Reupholster cushion covers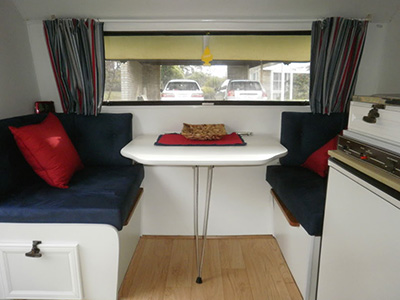 You can really tell a well loved caravan by the wear and tear that comes with a bit of time on cushions. You can reupholster cushions yourself or take them to a professional and by choosing a fabric that's durable and fashionable it will give your caravan a great new lease on life.
If you do it yourself you can choose a fashionable print and change it over as your taste and style changes!
New vinyl flooring
If your flooring is looking a bit dated you can lay your own peel and stick vinyl flooring. Choose lighter colours and this durable option will really transform your old caravan.
Storage
To keep clutter at bay (which is really important in a small space) head to Ikea for some great storage ideas and options for petite spaces. They've got some really unique and wonderful ideas and why not pick up some new towels to help with the rejuvenation process!