The Aussie Leisure Loans team has set up shop at the Gold Coast Midyear Caravan & Camping Expo and we're going to be here all weekend. There's an extensive showcase here of the very latest in caravans, camper trailers, mobile homes, 4WDs, camping gear and anything you can think of to get you out and about in Australia.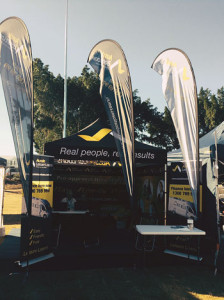 You'll us enjoying the shade in our tent marked by the Aussie black and yellow banners flying above. So whether you're a grey nomad, an outback adventurer or you have some big dreams to chase, come on down to say hello and have a chat about caravans, 4 wheel driving and camping.
The Gold Coast Midyear Caravan & Camping Expo runs from Friday the 25th of July to Sunday the 27th at the Gold Coast Turf Club on Racecourse Drive in Bundall.