You put your caravan and RV to work on long journeys but would you be willing to put it to actual work? Camplify can help you do this and help you pay off your loan faster by allowing you to hire out your leisure vehicle – just like Airbnb and Uber. It's called a sharing economy and it's is the way of the future where a lot of businesses are concerned.
Typically caravans aren't used all year round so the site offers owners to make money from their asset (the caravan, campervan, RV) by renting it out to holidaymakers who don't own a caravan. The Australian company, born out of Hamilton, NSW is facilitating hundreds of rentals a week and they would like to release it globally in the future.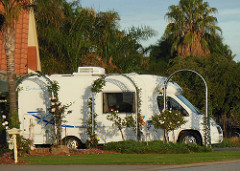 Camplify assists owners so that they can safely rent out their leisure vehicle and earn an extra income of $35 to $200 per night. Owners can choose when they want to rent it (so when you're not using it) and also who to – the renters are well-screened so it really eliminates a lot of hassle.
Would you consider renting out your vehicle?
Photo by Michael Coghlan