The team from the Melbourne office of Aussie Leisure Loans have been out and about this year at some of the shows and exhibitions.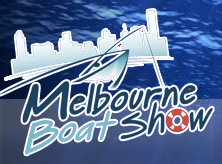 Back in March, they were at the Caravan Camping & Touring Show at Caulfield racecourse, Victoria's leading caravan and camping show where hundreds of exhibitors were showing off their wares. Marc Cottam Starkey from the Melbourne office was at the show:
"This was the second year we had a stand at the show and to be honest it was a little quieter for everyone in terms of business, although there were a record number of attendees. What we noticed was the strong interest in the accessories, things like small appliances and deck chairs," said Marc.
In June the team were at the Melbourne Boat Show at the Melbourne Exhibition Centre.
"This was our first time at the boat show," said Marc. "so it was a bit of an unknown for us. We were talking to people looking to buy anything from jet skis to $40-50K pleasure craft. Interest in boats and boating equipment is up this year. It's probably got less to do with the economy than with the amount of water available to enjoy – lakes in Victoria are now at 80% capacity compared to 20% just two years ago. It's no fun going out in a boat in a muddy puddle!"
Finally, it was over to Melbourne Leisurefest at Sandown racecourse earlier this month for the fifth outing for this relatively new show. Mainly focused on touring, caravanning and motorhomes, with a little boating and fishing thrown in for good measure, the four-day show was pretty busy for the Aussie Leisure crew, handling a lot of leisure finance enquiries, and with interest definitely up from last year.
Marc obviously enjoyed going along to the shows – he ended up buying himself a camper trailer!
Aussie Leisure Loans is a perfect fit for private finance for people looking to buy leisure equipment in Victoria, particularly boat finance.