Choosing the right tow vehicle is crucial if you are planning to travel around Australia with a trailer or caravan.
Though it is simple in theory to find a vehicle with enough power to match the weight and make of the trailer, there are many requirements that you need to meet to guarantee a safe, problem-free, and fun trip across the country.
And you also need to consider how you are going to pay for a new tow vehicle. If you flush with cash, you're laughing. However, if you need some assistance, we can help with a low rate leisure loan.
Tow Vehicle Basics
For starters, you'll need a vehicle that matches the legal towing requirements of the trailer and this can vary from brand to brand. And if you are hauling more than 3,000kg, your tow vehicle options are limited. You also have to consider the tow vehicle's durability depending on how often and how far you plan to travel.
Other considerations when choosing the right tow vehicle include the type of engine, the kerb weight, and vehicle dimensions. All of these will affect the stability, strength, and torque that contribute to the towing capabilities of the vehicle.
Failing to choose the correct tow vehicle will spell problems in the future. Aside from the hefty fines that you'll face, you are also risking your safety and that of other motorists on the road.
Best Tow Vehicles of 2018
To help you make a decision before shopping around dealerships, we listed down 2018's best tow vehicles that you can choose from.
Toyota LandCruiser 200 Series GXL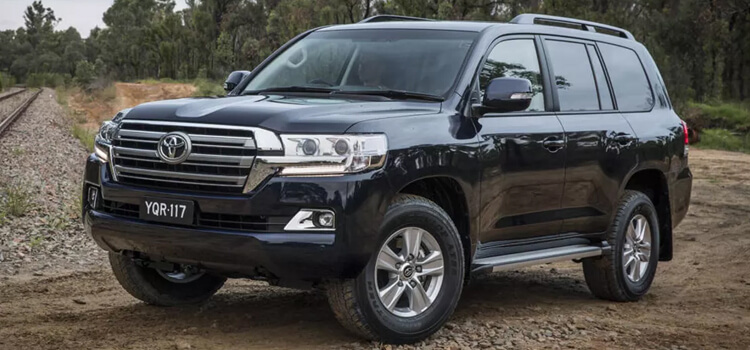 The Toyota LandCruiser 200 Series GXL is a great choice if you're looking for a tried and tested tow vehicle. It has everything you need to haul a massive trailer. This Land Cruiser has a powerful engine with high torque (200kW/650nM twin turbo 4.5-litre V8 diesel), a solid kerb weight of 2,740kg, has a short distance between the rear wheels and tow ball, and a long wheelbase of 2850mm.
Starting at $97,000, the Toyota LandCruiser 200 Series GXL has a maximum towing capacity of 3500kg and a tow ball rating of 350kg, which pretty much guarantees a strong performance on the road.
Jeep Grand Cherokee Limited CRD
Looking for a tow vehicle that's a bit cheaper but can still get the job done? At less than $70,000, Jeep Grand Cherokee can offer you the exact thing with the Limited CRD model. It's built like a compact SUV wagon but can easily tow 3500kg without sacrificing stability on the road. It's also fuel efficient, needing just 17.2L per 100km.
The Jeep Grand Cherokee Limited CRD is powered by a 3.0-litre turbo diesel V6 engine with a 184kW/570Nm output. Despite the mid-range kerb weight (2,327kg) and torque, it can haul trailers whichever tough road you take on your travels.
RAM Laramie 2500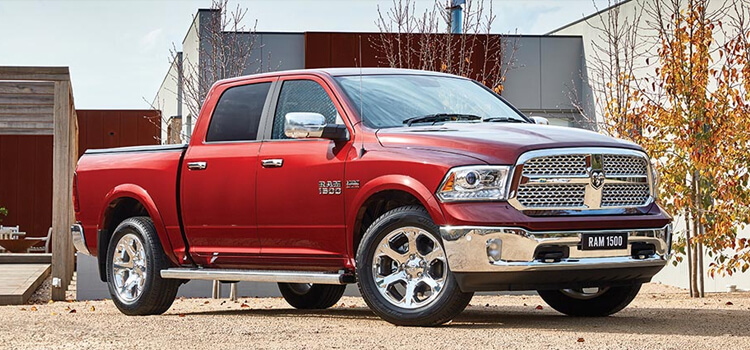 If you want a sure winner among the 2018's best tow vehicles and you've got the dough, then Ram Laramie 2500 is your top choice. Powered by a 6.7-litre Cummins Turbo Diesel engine, it has a maximum power of 276 kW and a whopping 1,084Nm torque. No more problem when hauling a trailer or caravan up a slope because Laramie 2500 has more than enough grunt to do the work.
It also has a towing capacity of 6,942kg, although you surely won't need to maximise this. In Australia, a trailer or caravan weighing more than 4,500kg already considered as a heavy vehicle, which will require air brakes and other sophisticated braking systems.
You can get this tow vehicle at $140,000 starting price. It's quite hefty compared to other vehicles in this list. But with a RAM Laramie 2500, you'll barely notice what's hitched on it.
Ford Ranger XLT Double Cab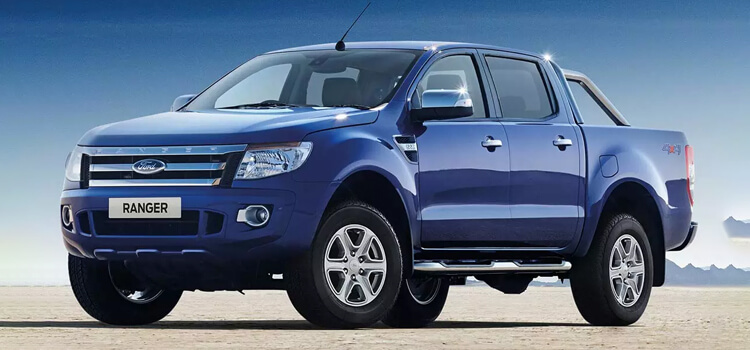 From the series of the second-most popular vehicle in Australia, Ford Ranger XLT Double Cab is another affordable tow vehicle you can choose from. Starting at $56,000, it can haul the same 3500kg max towing capacity with just a 147kW/470Nm power-torque output.
It's fitted with an all-wheel-drive powertrain and a 6-speed automatic transmission that helps make towing easier. Combined with a short tow to rear-axle measurement and a kerb weight of 2,159kg, the XLT Dual Cab will give you confidence when caravanning around Australia.
Toyota LandCruiser GXL 79 Series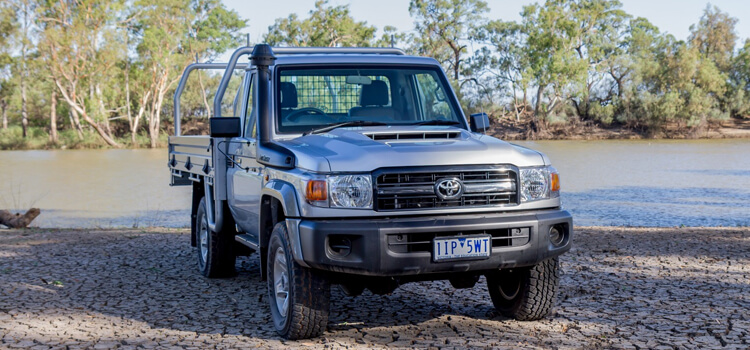 Another Toyota Landcruiser GXL in our list is the 79 series. Like the 200 series, this heavy-duty pickup is an all-rounder in terms of towing capabilities, but much cheaper at a $72,000 price tag. It has a 4.5-litre V8 turbo diesel engine, 151kW/430nM max power and torque; 350kg/3500kg tow rating, and 2,316kg kerb weight.
Despite being slightly inferior to 200 series in performance, it has a much better fuel efficiency rating of 15.9L/100km. Driving this 4×4 truck feels natural even with a heavy haul behind it. LandCruiser GXL 79 Series is perfect for long towing drives in Australia's great outbacks.
Isuzu MU-X LS-T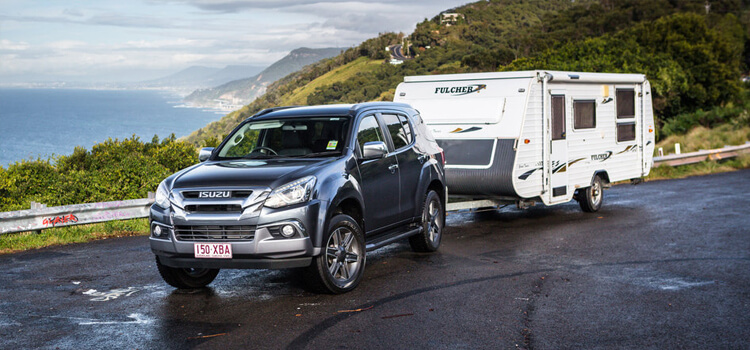 One of the oldest and most reliable tow vehicles in the market today is Isuzu MU-X. Despite the many years of existence, it still got it and it's one of 2018's best tow vehicles list. Now with the LS-T model, it can definitely go head-to-head with many competitors in terms of towing prowess. Although its 3.0-litre four-cylinder diesel engine is only rated with 130kW/430Nm output, it has the strength to climb moderate slopes even with heavy haul hitched to it. The Isuzu MU-X LS-T is currently priced at $53,500 plus on-road costs.
Range Rover Velar R-Dynamic SE D300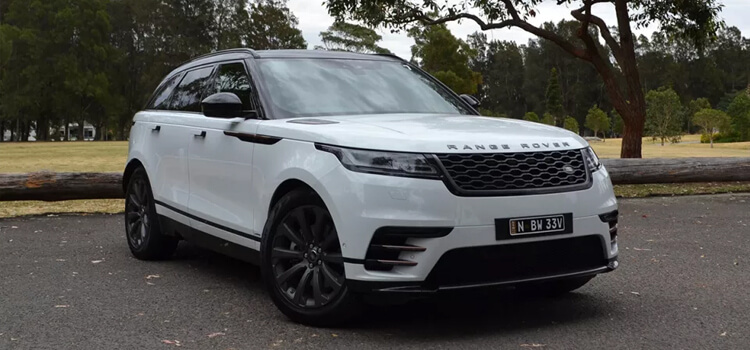 This is another tow vehicle that comes with a $100,000+ tag price, but not without any reason. The Range Rover Velar R-Dynamic SE D300 is equipped with a 3.0-litre V6 twin-turbo diesel engine that produces a huge 700Nm of torque on top of the 221kW maximum power. Although it is only capable of towing 2,500kg max, you can trust this compact SUV to perform just as impressive as other tow vehicles because it's a Range Rover.
Volkswagen Amarok TDI 550 V6 Ultimate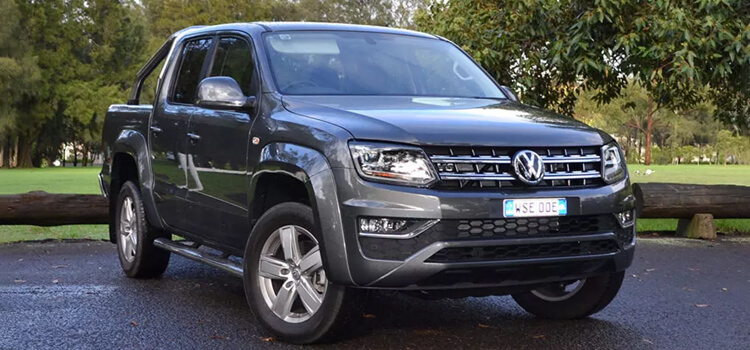 This ute is blessed with a remarkable 550Nm of torque, the best in its segment. The Amarok TDI 550 V6 Ultimate is equipped with a 3.0-litre turbo diesel V6 engine that also produces 165kW of power. Hauling a 3500kg trailer is easy-breezy with this towing vehicle. With the help of its 2,212kkg kerb weight, long wheelbase, and short rear-axle to tow ball distance, you don't have to worry about stability either.
With a price tag of $69,000+ and fuel efficiency of 15.5L/100km, the only forgettable aspect of this ute is the 80km/h towing speed limit imposed by the manufacturer.
Nissan Patrol Ti-L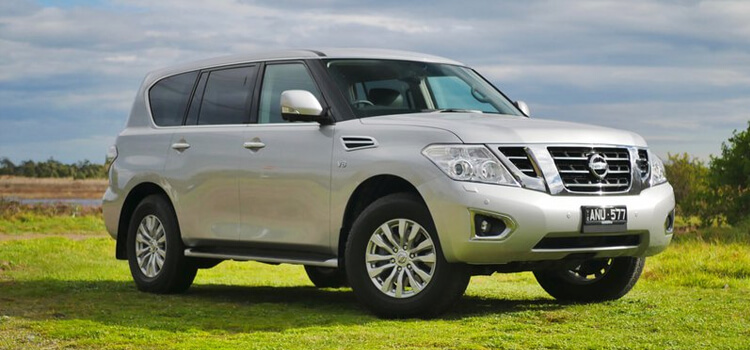 Nissan has a good entry in 2018's best tow vehicles with the Patrol Ti-L. It has a massive kerb weight of 2,715kg and outstanding 298kW/560 power-torque output. At an $89,000 starting price, this tow vehicle is one of the best you can buy in the market that has a tow rating of 350kg/3500kg. Nissan Patrol Ti-L is powered by 5.6-litre V8 petrol engine with acclaimed fuel consumption of 14.4L/100km. Equipped with a 140L-litre fuel tank; this vehicle has a tow range of 623km, perfect for long drives with a trailer or caravan hitched behind it.
Mazda BT-50 XTR Dual Cab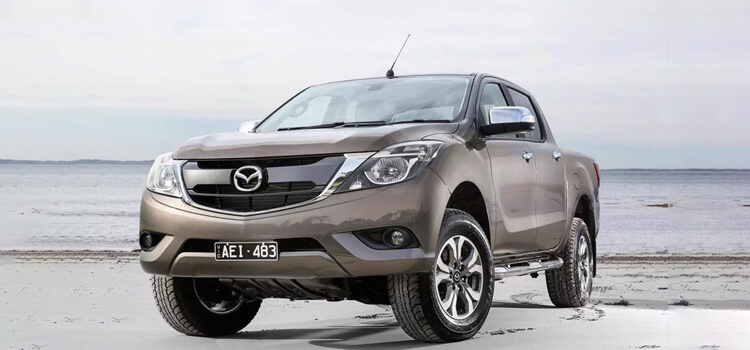 Powered by a 3.2-litre turbo diesel engine with power and torque output of 147kW/470nM, Mazda BT-50 XTR Dual Cab can be considered as an abled tow vehicle. It has a 350kg/3500kg tow rating and 2105kg kerb weight; it is stable enough to keep it tethered to the road along with a heavy trailer or caravan. If you need a tow vehicle within $50,000-$55,000 price range with a good fuel efficiency rating (18.7L/100km), this dual-cab ute is your best bet.
Tow Vehicle Financing at Aussie Leisure Loans
You can talk to one of our loan professionals or apply online and get conditionally approved right away.
Call us now on 1300 889 669 and get the right tow vehicle for your trailer or caravan.