Checklist for Buying a Camper Trailer
As we discussed in the last blog article on buying the right camper trailer for you, everybody needs something different when they go camping. From the off-road drivers to grey nomads and families staying in caravan parks, we all want something different from our camper trailer. When you're buying a camper trailer though there are some things that should be checked on all models.
We've covered the most important things you should be looking at when you're thinking about buying a camper trailer. Whether you're buying a new camper, second hand, or even having one custom made, these are still the things you should always check.
Chassis
You want a chassis made from quality materials to increase the life of your trailer. If you're going to be taking your trailer off-road or carrying heavy loads you'll need a good, strong chassis. There are trailer manufacturers that build to Australian Design Rules (ADR) and Australian Standards (AS). If you can stick to these manufacturers you'll be off to a good start.
Suspension
Make sure the suspension springs are appropriate for the weight of your trailer plus what you'll be loading on. You also need to consider what condition it's in and whether it's designed to go off-road. If the suspension goes when you're well off the beaten track you may not be able to bring your camper trailer home.
Tailgate & Doors
Imagine how dirty the outside of your car is after a long road trip. If your camper trailer's doors aren't water and dust proof you'll find everything in a terrible state when you arrive at your campsite. You need to be quite thorough when checking the seals on all trailer doors, compartments, tailgate and even tool boxes.
Towing
Obviously, your tow coupling needs to be strong enough to carry the weight of the camper trailer plus all your added extras. If you're going to be going off-road though you'll also need to consider a coupling with 360 degrees turning. You'll also want snatch points on the back of the trailer.
Protection
Even on paved roads, your camper trailer will occasionally flick up stones. With a trailer, there is the risk that stones can rebind off the trailer and break your car's rear window. Many trailers have built-in stone guards to deflect these stones, as well as some shade cloth attachments that bridge the gap between car and camper trailer. If it doesn't have either of these it will be an extra cost for you after purchase.
Tyres
You'll be able to drive a lot smoother if your trailer can have the same tyres. They'll be able to run in the same grooves as your vehicle, and in extremely bad situations they'll double as extra spares for your 4WD if you're off-road.
Trim
Check that all canvas and awnings are waterproofed, mildew-proofed and have no existing holes. Ideally, you want durable canvas for your shelter, though lightweight canvas is faster and easier to set up. You should also set up and pack up a potential purchase to see how long it takes you, how many fiddly parts it involves and if all parts are still there.
Bedding
This is pretty much the main reason you've decided to tow a camper trailer so don't get a camper that falls short in this area. Make sure it is big enough for everyone that will be sleeping on it and that it's easy to get to (imagine trying to take off wet clothes undercover and getting in bet without getting everything wet and muddy). Foam mattresses are cheap and quite easy to replace, but a proper sprung mattress will last longer and give you a better night's sleep. Make sure the bed area is deep enough for a sprung mattress as you may want to go this way next time you replace your foam.
Possible Add-ons
Camper Trailers can have a huge range of extra add-ons, providing greater comfort and functionality for your holidays. Standard campers should include an awning, jockey wheel and water tank. These are some of the add-ons you may find and what you should look out for when inspecting a camper trailer.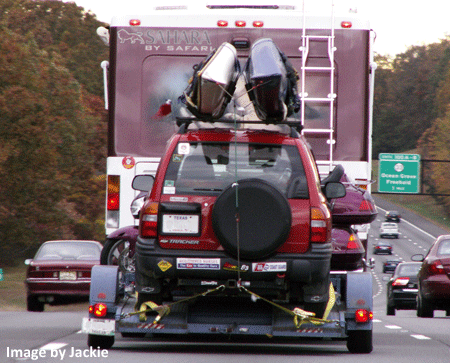 Kitchens – Many kitchen designs for campers either swing or slide out of the trailer, providing easy access to bench space, cooktops, utensils and often wash up stations. Make sure these kitchens are easy to slide in and out, and that you can access them without opening up the whole trailer
Water Tank – Make sure there are no splits or patch up jobs on your water tank. You want to aim for about 45 to 60 litres in a tank that's not hard to fill with a hose or access with the camper all packed up.
Racks for Boats, Bikes, Kayaks etc. – There are a number of rack types that can be fitted to camper trailers. If you're hoping to take a boat, bicycles, kayaks, surfboards or other recreational crafts out camping you'll need to check first of all that the trailer can have them fitted (not all campers can), and if it already has racks check the weight and size capacity.
Power – Many campers will have a battery that can be attached to the main vehicle for recharging while driving and willpower basic camping appliances. Make sure the leads will reach the car and that all sockets are in good, working order.
If you're looking at camper trailers and all these items have been checked (and passed your approval) then you're ready to make an offer. Contact us to organise camper trailer finance so you can get out there camping.