Camper Trailers (or travel trailers) have become a popular way of camping and holidaying for singles, couples, families and retirees alike. There's a huge range of camper trailers available on the market today, from the most basic to those with enough tools, compartments and add-ons for you to stage a continental expedition. So when you're buying one for the first time, where do you start?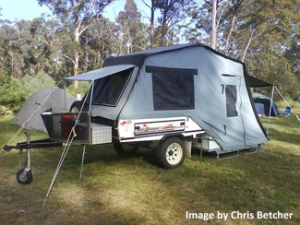 Considerations For Buying a Camper Trailer
Think about what you want your camper trailer for. There are different types of campers based on whether you want to go off road or just to caravan park campsites, as well as models better suited to hot, dry, wet or cold climates. You also have to consider the features you want – are you looking for something that will simply allow you to survive in the wilderness, or do you want all of life's little luxuries accessible from your trailer?
Obviously, your budget is a major consideration, but thankfully the team at Aussie Leisure Loans offer competitive camper trailer finance to help you with that. One thing that some first time buyers miss though is the towing capacity of their vehicle. It's great to get a fancy new trailer that has all the extras, but if your car can't tow it when it's loaded with all the food, water and other equipment you'll need, then it won't be camping anywhere further than your driveway.
Once you know all what you need the trailer for, what you can afford and what your car can pull, you can now start thinking about the camper trailer you want.
Types of Camper Trailers
There are plenty of camper designs suited for all kinds of camping and holiday uses. Some will have more features than your house and cost a mint, some will be quite basic and be easy to use, and some will pretty much require a small army to set up and pack down. Work out which of the following designs will compliment your camping experiences.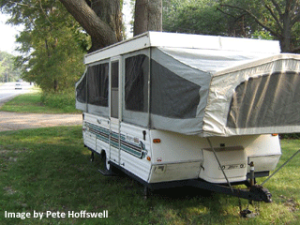 Flip-over Camper – A simple and convenient model, the flip-over has a sealed hard top while driving and opens out to become a floor suspended off the ground by adjustable legs. This is particularly hand when camping on the uneven or soggy ground. There's a ready-made bed inside and a kitchen that slides out from the side.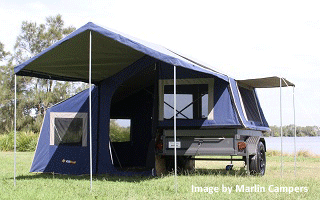 Soft Floor Campers – By simply pulling out canvas flooring and extending an internal frame (with some tent pegs and rope as part of the set up), soft floor campers provide a great deal more room than flip-overs, often extending out 12 to 14 foot wide. The kitchen is also accessible from the side even while the tent is packed away.
Windup Campers – The hard roof of windup campers can be mechanically raised to expose canvas sides. The floor is off the ground with steps leading up to a ready-made bed and an internal kitchenette. While simple to use, the windup campers aren't really suited for more than one or two people.
These are the main Camper Trailer designs that are available. You'll need to work out which will best suit your camping style and what kind of accessories you want to be able to add.
You can look at getting a new camper, or there are plenty of second-hand campers that are still in incredibly good condition (people buy them and hardly ever use them). If you are quite serious about your camping you may even want to get one customised for you based on the hard terrain you'll be driving on, and the provisions you'll need to transport for your trips.
No matter what you need for camping, there are some basic things you should check before buying a camper trailer, new or second hand. The next blog post will cover the things to check before buying a camper.
If you're ready to buy a camper trailer you can contact Aussie Leisure Loans to sort out finance or even apply online.
Helpful Camper Trailer Links