Packing up and heading out on the open road with your caravan can be great fun, whether you're after adventures across this great land, or you want to kick back, relax and go at your own pace.
There are plenty of upgrades and installations you can get for your caravan to make life on the road easier, as well as plenty of gadgets and tools that perform all kinds of functions you never knew you really needed. However, Aussie Leisure Loans have found the best tricks for enjoying your caravanning holidays are often the simplest.
Below is a collection of some simple Caravanning hacks to make your holiday more enjoyable without spending a fortune on camping tools engineered by NASA.
Life Hacks For Caravanning
Levelling blocks – Just a couple of blocks of wood (various sizes) won't take up too much room when you pack up, but they can mean the difference between a comfortable stay and sliding off the bed throughout the night when there's no even ground to be found.
Baking paper – Whether you have limited water for cleaning or you just hate cleaning, laying baking paper down on your BBQ plate makes cleaning after your meal as easy as throwing out the paper. No mess, no cleaning, no water wastage.
Plug chain – Losing the plug to your sink means you'll be wasting plenty of water over the rest of your holiday (or until you get to the next town). Simply attach a small chain to the plug and connect it to the tap.
Water lamp – If you're running your caravan on battery even the lights can be a bit of an unnecessary power drain. Fill up an old water or milk bottle with water and put a head lamp around it with the light facing in. The bottle will glow like a lantern and run for hours on cheap AA batteries.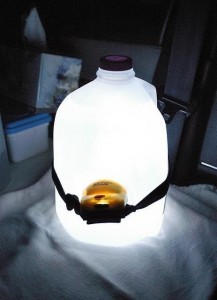 E-readers – Rather than carrying half a dozen books, purchase an e-reader with a backlight and a car charger. You can recharge it as you move from location to location, fill it up with hundreds of books to read, as well as caravan and camping how-to books for you when you need a little guidance outside of the range of Wi-Fi/YouTube videos.
Awning strut covers – No matter how familiar you are with your caravan, at some point you'll run head first into an awning strut in the middle of the night. It's great for Australia's Funniest Home Videos but not so great for your head. Cut a slit down a kid's pool noodle and slot it on your awning struts. The bright colours make them easy to see and even if you do run into them it'll be padded.
Tic-Tac spice rack – Love to cook when you're on the road? Save plenty of space by loading your go-to herbs and spices in empty Tic-Tac containers. They'll take up less than a third of the space of herb jars, you can rubber band them together and they stack easy because they're rectangular. Just remember to label them – you don't want to add chilli powder to your porridge instead of cinnamon.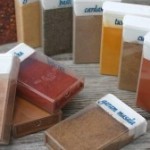 Hanging shoe rack – Those fabric hanging shoe racks you get at discount stores are great space savers. Hang them up on the inside of a cupboard door to store anything from cleaning supplies to BBQ tools and sauces, toiletries, or even your shoes.
Chewing gum & duct tape – We all know the universal applications of duct tape, but with chewing gum it can also plug up fuel leaks. Use a rag to clean and dry the area around the leak, plug it with chewing gum and wrap tightly with duct tape. There have been stories of people driving around for years with these simple repairs, though we recommend getting it fixed properly sooner rather than later.
Walkie-talkies – Reversing a caravan can be tricky. A simple pair of walkie-talkies allow you to communicate with the person guiding you in. Even kid's toys will work for this as you won't be more than 20 metres apart.
If you know of any other life hacks for caravanning please let us know. We'd love to do a follow-up article with even more tips for enjoying your life on the open road.
If you're planning on buying a caravan talk to us about organising finance. It's no life hack but we do offer very competitive rates on caravan loans as well as leisure vehicle insurance.
Give us a call on 1300 889 669 or apply online today to get things moving.