Camping is a favorite Australian past time. But camping can get quite costly, we know! Considering the food, fuel, and the caravan park site fee, the expense can run pretty high. But, there are ways to camp for free around Australia — if you know where to look…
Roadside Stops
A network of roadside rest areas exists on many long stretches of roads between towns and cities. They are created specifically as rest stops for travellers and transport truck drivers after long hours of driving and to prevent accidents from happening. Depending on the state or territory, roadside stops may have facilities like toilet, picnic tables, BBQ, water tanks, information area, fireplaces, and a safe space to park your caravan or camper van.
Some roadside stops may have limited facilities. In which cases, you have to be self-sufficient and ready with everything you need between towns and cities to camp comfortably on the road.
When reaching these roadside stops, make sure to check if they are dedicated just for long haul trucks. Don't camp out at these areas to avoid fines from the local council, and of course, to ensure your family's safety.
Instead, camp out at roadside rest areas solely for travellers. It's best to park your caravan close to other vehicles and have 'safety in numbers' camping security. Also, remember to abide by the rules implemented on these roadside stops. Some of them don't allow camping for more than 24 hours, while others prohibit overnight stopping. Make sure to find out these rules first before taking your rest.
State Forests and Reserves
Another way to camp for free around Australia is to go to state forests and reserves. Most of them offer free bush camping and other recreational activities to the public. You can enjoy hiking, motorbike riding, horse riding, and many others activities. Here's some more tips to an epic Australian road trip.
Since it's free, you can't expect the usual camping facilities in the area, so you have to be self-sufficient. Even a reliable toilet may not be available. If you don't drive a motorhome or caravan with a portable toilet, then you should be prepared to get much closer to nature.
On the other hand, state forests and reserves offer more freedom for camping. Most of them allow campers to stay without time restrictions and some even permit dogs.
The Australian Outback
When neither a roadside stop nor a state forest is available during nightfall and you're still on the road, then the most logical thing to do is to make use of Australia's vast space.
There are plenty of spaces close to the outback roads that are lined with trees where you can stop and rest for the night inside your vehicle. This is where driving an RV or a caravan will come in handy instead of a camper trailer. You can sleep anywhere without the need for set-up. Just find a suitable spot and you can snooze away. But remember to pick a place that's nowhere near any creek bed or you'll be in danger of flash flood when it rains.
Also, make sure to avoid public areas that are near tourist spots with signages prohibiting overnight campers or you'll receive a fine.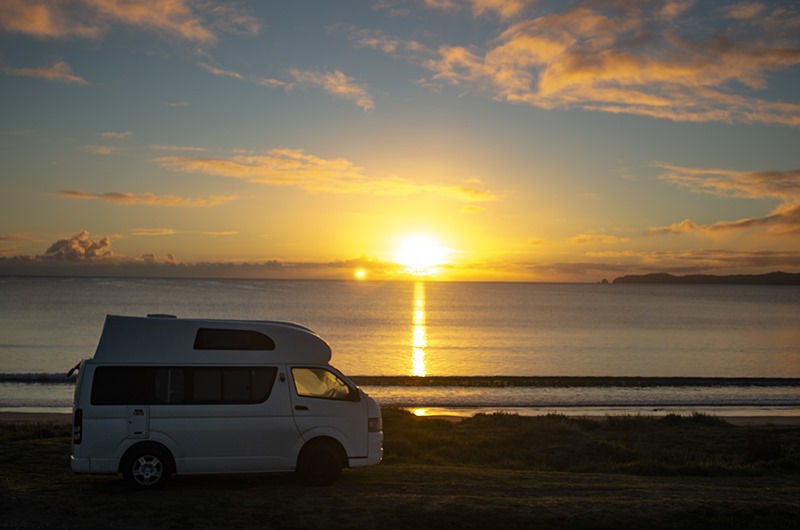 Preparedness for Free Camping
With the roadside stops, State Forests and Reserves, and the large outback, you can essentially travel around Australia with minimal accommodation expenses. But you need to ensure that you and your family are well-prepared to spend time at free camping areas.
The first thing to do is plan ahead of time and map out the possible free camping sites you can pull in along your route. This way, you will save yourself from worries of having nowhere to stop and rest after a long day of driving.
Make sure to be well-supplied with power, water, and tools to help relieve yourself in the wild. And more importantly, make prior plans on how to ensure safety while staying at these free camping areas.
Get your camping vehicles with Aussie Leisure Loans
Now that you know how to best camp for free around Australia, you don't have to spend thousands of dollars on accommodation to travel with your family. Just take advantage of these free camping areas and you'll be able to complete your lap around the country and discover all the wonders it offers.
But to make sure that you can be self-sufficient when staying at free camping sites, you need to have the right vehicle to take with you. Caravans, camper vans, and RVs are great options for a rig because they are secured and don't require setting up.
If you don't have any of these camping vehicles yet, this may be the best time to buy one. Aussie Leisure Loans can help with your purchase. We offer a range of loan options with competitive rates to help finance your new RV or Caravan. We also offer pre-approved loans to give you confidence when shopping at the dealerships.
Call Aussie Leisure Loans on 1300 889 669 or apply online to get a pre-approval for your camping