Sure, caravans are basically small homes on wheels. But any home can be made more comfortable with the right additions and accessories, and caravans are no different.
There are plenty of innovative gadgets and accessories you can get for your caravan to make road trips more enjoyable as you explore the Australian open road. So why not make things easier? If you wanted to rough it, you would have bought yourself a camper trailer instead.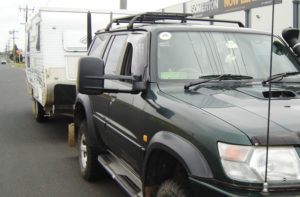 Caravan towing mirrors
Your car's side view mirrors weren't made to look around a 20ft mobile home, so driving on the highways can become quite risky, particularly if you need to change lanes or keep an eye on your load. Towing mirrors come in a range of styles and designs, from attachments on the side of your existing mirrors, to replacements that can extend out when you're towing and slide back in for regular car driving.
Caravan awnings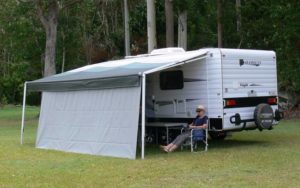 An attached awning takes up no storage room inside the caravan and can quickly extend out to provide shelter from sun and rain, whether you're making camp or just stopping for a break.
Another option here is to get annexe walls, allowing you to fully enclose your awning for a weatherproof camping space. Floor matting also helps to dirt being tramped inside.
Caravan covers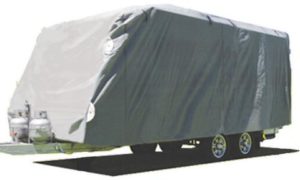 We often think about accessories to make life on the road easier, but what about all that time your caravan is parked in the driveway at home. Caravan covers protect your mobile home from dirt, droppings and the sun's damaging rays between trips, so it's in good condition when holidays come around.
Hardwood blocks
This is more of a DIY caravan life hack, but simply bringing some hardwood blocks to prop under your corner stabilisers in wet weather will prevent your caravan from sinking in soft, wet ground.
External showers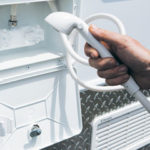 Whether you don't have a shower in your caravan, or you don't want to trudge dirt and sand inside, a simple camping shower for outside the van can make a world of difference.
Use it just to wash off your feet, or set up a shower tent and enjoy a morning shower in the fresh air every day.
Clothes lines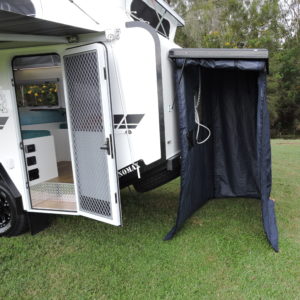 You can get portable or expanding clothes lines for the outside of your caravan so you don't have towels, swimwear and washing draped over your outdoor chairs, car doors, roof-racks etc.
Caravan heater
In Australia we often focus on ways to cool off until winter takes us by surprise. Small, portable caravan heaters can run from your van's battery supply and make those cold winter nights so much more cosy.
Reversing cameras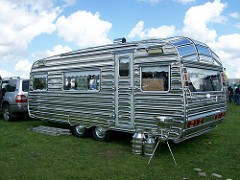 While these are for the towing vehicle, they make reversing up to the hitch safer and much easier.
Hopefully some of these accessories will help improve your caravan so you can get the most out of it in the years to come. However, if no amount of accessories are going to improve your caravan, perhaps it's time to upgrade.
Talk to the team at Aussie Leisure Loans today about caravan finance and pre-approved loans, so you can shop with confidence that you're in a position to buy.
Call us on 1300 889 669 or simply apply online to get things moving today.
Featured image by Aaaarrrrgggghhhh! on Flickr.